Automation: The 5 Steps to Defend Against Future Disruptions
Nearly every organization has a fundamental goal to constantly grow and improve itself. Finding ways to do things better, faster and smarter has always been the name of the game. Today, however, the rules are changing. By deploying advanced automation technologies, organizations can control costs, stabilize operations, and insulate core businesses from future disruptions.
Automation can help healthcare providers control costs while focusing on patient care. It can help financial institutions deliver personalized, contactless experiences and help manufacturers predict supply chain disruptions. Automation is an investment in long-term growth, and it sets the foundation for an intelligent enterprise.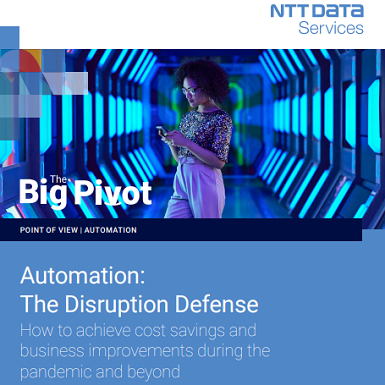 You'll learn:
The range of automation from Robotic Process Automation to Intelligent Automation
The five steps to getting started and building momentum with automation
What to automate, along with IT and industry examples from banking and healthcare to manufacturing and even the public sector
It's getting faster, easier and cheaper to put automation to work. Learn how your organization can benefit by downloading our POV today.