Madhava Devarapalli an Interdependent World Citizen Goes Beyond Borders for World-Class Client Service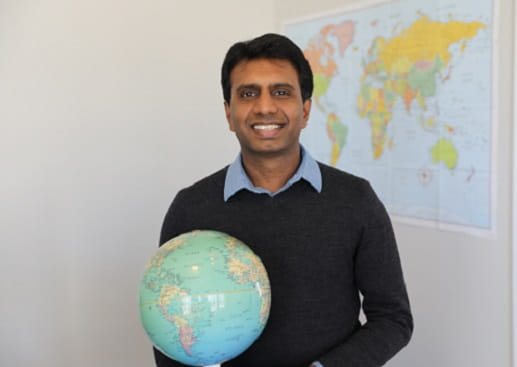 Growing up in southern India, Madhava Devarapalli began forging his worldview. Realizing the world was a global society and there were equal opportunities for teaching and learning between its citizens, he grew into his professional life as a Client Executive with an interdependent mindset. A mindset that impacted his client focus.
Interdependent (adj.) When objects or people are interdependent, they come to rely on each other for survival. As business becomes more and more international, the world is increasingly interdependent, with countries needing each other's help to survive. — Vocabulary.com
Q: Embracing diversity and celebrating cultural differences, that's not something that you just wake up one morning and have. It has to begin at an early age. What was that like for you?
A: In India, every state has its own language, its own culture, its own history, language and customs. There is a saying: if you're traveling on a flight in India from one corner to another, every 20 minutes or 30 minutes you are passing a totally different culture, cuisine and language underneath you.
I have a head start on this global outlook due to my upbringing. My parents always stressed education and learning from those around us. They taught us that you are not entirely independent on your own. At the same time, you're not entirely dependent on somebody else. They always told us, you need to be interdependent — part of a community, or part of a team. There is nothing that you can achieve on your own.
Q: So, you had this great upbringing that gave you the foundation to have a kind of a world citizen mindset. How do you pass that along to your family?
A: I have a two-year-old son. My wife and I made choices to ensure he definitely gets the same exposure, in terms of the pluralism, that I had. We literally got our home 180 degrees opposite, on the other side of town to where most Indian communities live. He goes to a pre-school with diverse cultures all learning from each other. When we moved into this new home, the first thing I hung up was a world map in my office. I want to make sure my son grows up to be a true global citizen. When I meet a new client, I go to the map and look at his or her country and learn something about it.
Q: Now you are a Client Executive with NTT DATA Services, working with people from all over the globe. How do you call upon this diversity of opinions and experiences to forge a strategic plan to serve your client?
A: You know, there's a cultural mindset — that interdependence — that whenever I meet somebody, I believe that, without knowing anything about that other person, there is an initial level of comfort that comes from a level of trust that we're going to start with by default. Having a diverse group on my team helps me to bond those relationships on the client's side much easier and much faster to start with. Also, I'm on the road meeting with my clients almost 80% of my time. I think it's crucial for me to be a part of their team and their ecosystem, which helps me to have a better understanding of their technology services needs.
Q: What are you most proud of as you look back on your work helping your clients, and what's behind that success?
A: Our client was struggling with an array of disparate systems, obsolete technologies, and unreliable platforms, which came with a high cost of ownership and poor employee experience. They were looking for a new solution that offered a unified communications platform with integrated audio, video, and web collaboration features and one which easily integrated with their complex infrastructure.
They also wanted to establish a culture to switch to Voice over Internet Protocol, or VoIP, without strong disruption. We on-boarded a truly unified solution with minimal disruption but moving the needle in terms of culture towards VoIP. We immediately saved the client over $1M and with further projected savings to come as we roll this out globally for them.
We were successful due to a focus on and understanding of the client, their needs, priorities, and constraints, along with a long-term strategic view. Unlike the competition, at NTT DATA Services we take a holistic approach and collaborated with them as their platform agnostic partner.
Q: Any kudos for this work?
A: I was asked to come to our Tokyo headquarters to receive the "Best Practice Award" and that was incredibly gratifying to me.
Q: What's your professional credo?
A: My starting point is always the client, their requirements and their priorities. And then, looking around within my company and my group to find the right solutions to bring to the table. It's always about the client. It will become about you eventually, but the starting point is never about you.
That's something I like about NTT DATA Services a lot, and that's one more reason this is my 12th year with the company. We are a global company — made stronger by the differences we share — and the interdependency we bring to our clients.
Learn more about NTT DATA Solutions for Healthcare and Life Sciences.