A Voice for Change — Being Inspired by Wangarĩ Maathai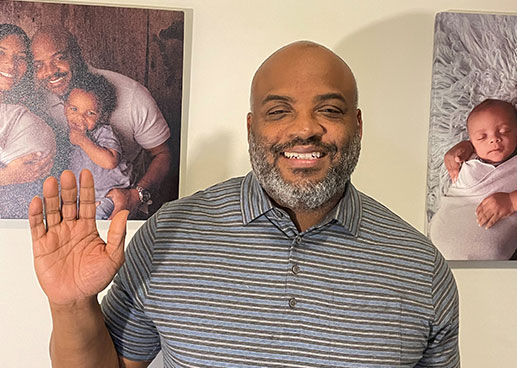 As we recognize International Women's Day, I #ChooseToChallenge" myself by writing my first blog post. I believe it's important for all voices to be heard, and a blog is a great way to add my voice to those celebrating the innovative and amazing women of yesterday and today.
In celebrating International Women's Day, I add my voice to the chorus of NTT DATA women writing about those women from history who have inspired them. I'm reminded of a time earlier in my career when my voice was not heard. I shared an idea in a team meeting that was not acknowledged until another more senior colleague reiterated the same view, and it was taken as his. I shared this experience with a female colleague. She told me, "Now you know how it feels to be a woman."
That was a real wake-up call for me and one reason I am proud to be part of this series.
After a conversation with my wife, I recently researched the life of Wangarĩ Maathai, a woman born April 1, 1940, in Nyeri, Kenya. As I learned about her life, I became even more conscious of how one seemingly small voice can become a powerful force for change.
As a young woman, Wangarĩ sought to find a better life for the women in her community. She began by planting trees in her homeland of Kenya. She believed that women could earn income by planting and, in doing so, becoming productive members of society. She also knew these efforts could improve the environment, all the while contributing to reforestation. This seemingly small effort was about more than just planting trees — it was about one woman's involvement in the community and how this small act led to big accomplishments.
Maathai went on to challenge traditional gender roles. She became a renowned political activist, going against her culture and even her husband, who later divorced her for being too outspoken.
Although most women of her generation did not get an education, Maathai did — but only because one of her brothers thought it unfair that he had to go to school as a youngster when she didn't. She continued her passion for learning beyond childhood and became the first woman in East and Central Africa to earn a Ph.D. After graduation, she taught in the Department of Veterinary Anatomy at the University of Nairobi, and became chair of the department in 1977.
Also in 1977, she founded The Green Belt Movement, an organization to educate world leaders about conservation and ways to improve the environment. By the early 21st century, The Green Belt had planted about 30 million trees. As a result, other African countries supported similar efforts, including Tanzania, Ethiopia, and Zimbabwe.
In 2004, she became the first Black African woman to win a Nobel Prize for Peace, for which the committee commended her "holistic approach to sustainable development that embraces democracy, human rights, and women's rights in particular."
She wrote several books, including The Green Belt Movement: Sharing the Approach and the Experience, Unbowed (an autobiography); and The Challenge for Africa, which criticized Africa's leadership and encouraged Africans to work on solving problems without Western assistance. In addition, Maathai was a recurrent contributor to international publications including the Los Angeles Times and the Guardian.

Were it not for International Women's Day and our company's continual activities of Women Inspire NTT DATA (WIN), our employee resource group; I would not know about this remarkable woman and how her voice evoked change. It makes me wonder how many other voices go unheard in the hustle and bustle of our daily lives.
As a leader in my industry, I #ChoosetoChallenge myself to be receptive to those small voices around me. Especially in these times of virtual meetings and collaboration, we must be attuned to others' perspectives and ideas, even when they differ from our own.
Wangarĩ Maathai's story taught me that #ChooseToChallenge means more than standing up to the status quo: it means raising your voice when necessary and stopping to listen to others. You might find that the smallest voices make the loudest impact.
Read more from the NTT DATA International Women's Day 2021 blog series: