Technology Spurs the Future of Rail
By enabling next-gen technology solutions and services, Trinity Industries transformed rail services with modern infrastructure and a real-time railcar intelligence.
Those technologies spanned advanced analytics and business intelligence to foundational infrastructure, applications and workforce productivity tools.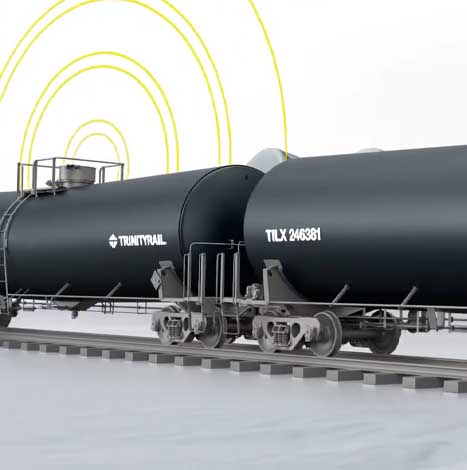 The pandemic proved that supply chains are the lifeblood of a nation's economy. While rail plays a vital role in seamless transport of goods, other modes of freight transport are gaining modal share. Trinity Industries, which owns market-leading railcar products and services-related businesses in North America under the trade name TrinityRail®, used customer engagement and technology to enhance its product and service offerings.
To meet its purpose of "Delivering Goods for the Good of All™," Trinity adopted technology that touched nearly every facet of their business operations. With a keen focus on customer service, Trinity has established initiatives to adopt digital and analytics services. This modernization powers TrinityRail's evolution from a manufacturing and maintenance company into a full-service rail transportation company that puts the customer at the center of everything it does.
70K
first-call service desk resolutions annually
$1.7B
company stands up an infrastructure from the ground up
TrinsightTM Logistics Platform delivers real-time visibility of railcar and cargo status
Integrates telemetry, machine learning enabled analytics
Modernizes secure cloud servers and edge computations to process and stream data with no business interruption
Enhances employee productivity tools and applications
Accelerates customer acquisition through enhanced CRM
Where's my railcar? Customers gain new visibility into time and place
Technology innovation is critical to improving supply chain efficiencies. For instance, the trucking industry has deployed technologies that give its operators valuable, real-time information on the location and status of shipments.
For Trinity customers, that visibility into the location and health of their freight is crucial to making delivery commitments. They want a one-stop shop for the production and leasing of railcars and the technology that allows them to monitor their cargo at every step of the journey.
"More than two-thirds of the lifecycle of a railcar shipment is spent at the first and last mile," says Trinity's VP of Services Expansion and Disruptive Technology Development, Jim Pang. "But typically, railcar tracking technologies are sparsely deployed there. Knowing where a car is on demand can help customers monitor shipments and guide their planning and execution up and down the supply chain."
TrinityRail integrated IoT technology that provides real-time intelligence on rail equipment's location, condition and status. And advanced analytics, machine learning, telematics and various traditional RFID rail data sources to provide actionable insights into railcars and cargo. Customers can view:
GPS-enabled railcar tracking
Network anomalous events with real time terminal dwell and weather overlays
Customizable shipment triggers and alerts to push notify users to take action
Enriched car location message (CLM) data that is transformed to surface exceptions
High railcar impact events, product security digitally, and undesired movement detection
Data Science engineered ETA tools to enhance logistics coordinator planning and execution
Predictive Maintenance model application to reduce expenses
Staying on track through a proven, long-term partnership
Trinity's partnership with NTT DATA began in 2018 with the deployment of Enterprise Application services to human resource and finance applications. After that, NTT DATA assisted Trinity with Digital Workplace Services to transform its service and help desk operations. As a result, the help desk closes over 70,000 tickets per year on the first call.
In addition, NTT DATA supported the divestiture of Arcosa in 2018, which was comprised of Trinity's infrastructure-related businesses. It was a significant effort that involved standing up a $1.7 billion company from scratch.
"Our use of Hybrid Infrastructure Managed Services and Application Management services was integral in getting that infrastructure stood up," says Trinity Industries Chief Information Officer, Relle Howard. "We migrated 200 applications and thousands of daily transactions. Arcosa went live on day one with almost no interruption. It was a phenomenal result."
Based on the Arcosa success, Trinity worked with NTT DATA when relocating its headquarters. The company moved its internally operated datacenter to a managed services co-location, standing up new core infrastructure, network and cybersecurity services on a tight timeline. Each phase went live without business interruption.
A new platform delivers valuable real-time insights
These insights are delivered on TrinsightTM, a digital platform that monitors sensor-equipped railcars (and their freight) from origin to destination. As a result, customers have real-time, track-level visibility, can identify whether doors or hatches are open, assess and optimize freight capacity and track other key performance metrics.
"Advancements like TrinsightTM are critical to delivering goods for the good of all," says Howard. "But we can't do it alone. Partners like NTT DATA are critical to the success of our technology initiatives."
Full steam ahead with technology for all
For many IT organizations, customers and employees are two sides of the same coin. While Trinity's intelligence and analytics technologies serve the needs of its customers, the company needs equally robust technology for its workforce. The guiding mission of its foundational approach to IT is to provide and maintain a productive work environment for employees.
Trinity modernized:
Server networks
Router firewall infrastructure
Cybersecurity controls
Governance, risk and compliance policies
Digital workplace operations
The goal is to ensure that employees have friction-free access to the applications, networks, laptops, and phones that allow them to be productive from the start.
"It was a foundational shift in our mission for providing and maintaining a productive work environment," says Howard. "It allowed us to scale. And it allowed us to stay modern."
All the bells and whistles for business operations
In addition to serving the needs of customers and employees, Trinity ensures it has the technology needed to streamline business operations and accelerate the velocity of business transactions. For example, when acquiring new customers, the company relies on CRM (customer relationship management) tools that guide every step of the transaction, including providing a proposal, getting the bid, and being awarded the work. Now, Trinity tracks opportunities through all its business lines with the CRM tool.
Trinity ensures it has the technology needed to streamline business operations and accelerate the velocity of business transactions.
Trinity Industries is a leader in railcar manufacturing, leasing and related services. Headquartered in Dallas, Texas, the company is committed to working closely with its customers to deliver full-service, reliable, responsive rail transportation solutions.