How Sustainability and ESG Impact the Supply Chain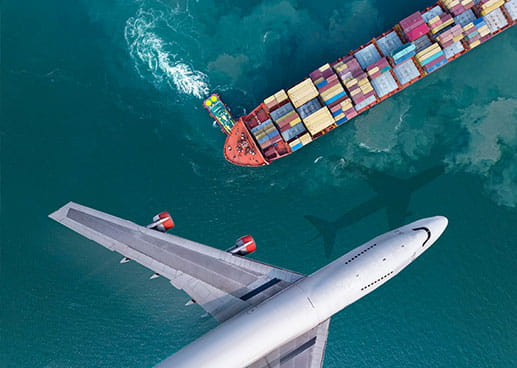 If you spend a few minutes listening to discussions in the board rooms of enterprises worldwide, you are likely to hear conversations about sustainability. One recent survey showed the impact of supply chain sustainability considerations on business and strategy was exceeded only by considerations of product/services and operations. This notion seems reasonable, given — to cite just one example — companies could potentially be saddled with as much as $120 billion in costs from environmental supply chain risks over the next five years.
Enterprises are developing strategies aimed at achieving the sustainability goals their customers are seeking. An essential component of any company's strategy for meeting supply chain sustainability goals is a collaboration with its logistic service providers. To help foster alignment across the supply chain, it is helpful to think about sustainability in the context of the ESG evaluation framework, where ESG stands for environmental, social and governance.
Sustainability through an ESG lens
The ESG framework provides a well-structured approach for better understanding the progress towards environmentally friendly, socially acceptable, and ethically responsible business practices. Each component of ESG has a specific relationship to the supply chain.
Environmental goals focus on reducing the overuse and destruction of natural resources and threats to all forms of life. This focus may include developing "carbon-neutral" activities and processes; biodegradability; alternative and renewable energy sources; reverse logistics; and circular supply chain strategies. Throughout the supply chain, issues such as transportation management offer opportunities to enable and enhance environmental sustainability. The impact is broad because of the multiple modes of transportation involved, including transportation by ship, air, rail, and truck.
The social element of ESG relates to the impacts of enterprises and their supply chains on people, ranging from issues such as diversity, equity, and inclusion to fair labor practices and human rights in the supply chain. For example, one consideration is how procurement practices and decisions affect the working conditions, which are part of global supply chains. Another is ensuring that supply chain participants address hot-button issues, such as harassment in the workplace and retaliation against whistleblowers.
Governance reflects an organization's commitment to promoting and fostering sustainability internally and with other supply chain participants and stakeholders. Supply chain governance, concerning decision-making, often takes place at the board level. Examples include improving relationships, increasing data and cyber security, and using visibility to help address anti-corruption/bribery.
Supply chain alignment in support of ESG objectives
Aligning organizations in the supply chain ecosystem to ESG objectives requires meaningful and effective collaboration. The priority should be to develop a comprehensive and measurable understanding of the current state of sustainability and to assess critical areas to be targeted for improvement. This process can be initiated by either party and may include the selective involvement of other stakeholders.
The process does face challenges. According to survey findings of the 2022 26th Annual Third-Party Logistics Study, top challenges in implementing effective ESG measures include the cost of implementation, changing regulatory requirements, and a lack of tools and technologies to support an ESG program. Moreover, meeting ESG objectives needs to be done in a way that is economically and financially sustainable.
A serious business
All of this is to say that the focus on ESG in supply chains is serious business. Supply chains encompass everything from sourcing and packaging to warehousing and final-mile delivery, and ESG has a measurable impact at every point. Not only can network optimization, reliance on reduced-emission equipment, and the use of efficient buildings reduce carbon and greenhouse gas emissions, but increased supply chain visibility and traceability can provide insight into sustainable sourcing and human rights.
NTT DATA recently published a scholarly article that treats this topic in greater depth. Sustainability, ESG, and the Supply Chain dives deep into all of the issues covered here. It also lays the groundwork for successful collaboration between the enterprise and its supply chain.
NTT DATA also provides insights into supply chain issues, including sustainability.