For Kerry Kreighbaum, "Each for Equal" is About Growth and Relationships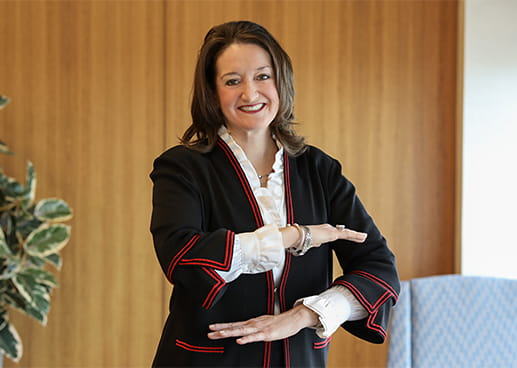 Different backgrounds and life experiences bring different perspectives. Different perspectives ultimately make a business stronger. I don't tend to focus on the idea of gender parity in the workplace, but rather, I think all businesses are collections of individuals who bring different talents and traits to bear. This diversity in thought and approach is what can strengthen the business. With a strong work ethic, a relentless focus on the quality of one's work product, and fostering genuine and strong relationships, anyone — man or woman — will be able to empower themselves to make a difference in their organizations.
I started my career in management consulting, which allowed me to see diversity across many different types of clients and operating environments. I transitioned to a traditional software firm and learned how outside partnerships (alliances) can bring a diverse perspective and new avenues to market. Relationships established early in my career are ultimately what opened the door to joining the NTT DATA Services team as we seek to partner and leverage the diverse set of offers across the entire NTT family of companies.
Throughout my career, I've never really chosen to label myself as a "woman in business." I've never thought to single myself out, or think I am any different than the person sitting next to me. I am simply an individual who brings my own unique blend of skills to help a company move forward. Yes, there have been many occasions in my career where I have walked into a client site or a large senior leader meeting, and there may only be a handful of women in the room; but I would advocate that does not cause me to think or act differently. I truly believe if I stay focused on the quality of my work, the relationships that I establish, and the chance to mentor and help others grow, that this will speak louder than any other action could. This was modeled to me early in my career and continues to be a guiding principle in how I approach work.
Being new to the NTT DATA Services team, I did find it appealing when interviewing and deciding to join, that I met several women in senior leadership positions. These women are incredibly well-respected for their business contributions, very visible in the organization, and they are wonderful individuals. Technology-focused companies may not always be the most diverse of environments, but I've been delighted in walking the halls at NTT DATA Services to find much diversity across the leadership team and teams at all levels.
Along with a focus on one's unique set of skills and capabilities, for anyone seeking to grow in your career, I would highly encourage developing a mentoring relationship. A mentor is someone you can learn from, and can rely on for candid coaching and advice as you navigate your career. A mentor cares about your success and is a sounding board and guide. It does not matter whether that mentor is a man or a woman. Find someone preferably a few levels above you, whose leadership style and approach you respect, want to learn from, and emulate. You've likely heard the mantra that "you are a product of the five closest people with whom you surround yourself." This applies in a work environment just as much as in personal life. Mentors have made a difference in shaping my career.
Just as I would encourage you to find a mentor for yourself, I would also encourage you to become a mentor to someone else; pay it forward! I am involved in a wonderful program in Dallas called "Imagine U," where we work with high school students in navigating the change in their "career" as they prepare for and enter college. It has been an incredibly rewarding experience to get to help students navigate what they want to be when they grow up, and many are considering careers with a technology focus. I believe mentoring relationships are one of the single most important relationships you can foster to ensure continued growth and contribution in the IT Services industry.
On this International Women's Day, I'd encourage a focus on growing your unique skills and capabilities, the value and diversity of thought that you can bring to your company, and the impact you can have with the wonderfully strong and diverse set of colleagues that surround you.
NTT DATA International Women's Day 2020 Blog Series: