A Self-Described "People Person" Never Misses an Opportunity to Spread Positivity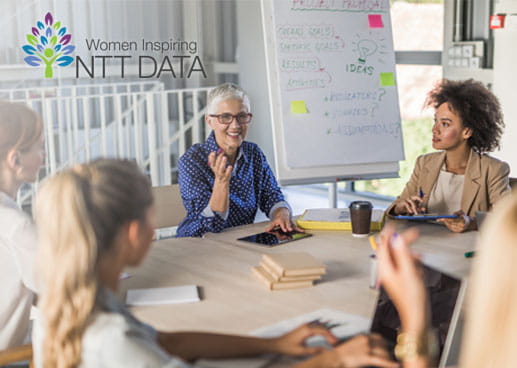 I started my career as a lecturer in an engineering college, and later worked as a faculty at NIIT Trivandrum and IBM-ACE. In 1999, I joined NTT DATA as a Technical Trainer. NTT DATA gave me plenty of opportunities to grow within Human Capital. It's been a total of 26 years of experience in various functions of Human Capital Management, with 19 years at NTT DATA. As a "people person," I would never want to miss an opportunity to interact and do my bit in helping to spread positivity in the workplace and in our communities. And NTT DATA is committed to being an employer of choice, with best-in-class workplaces, benefits and several employee-oriented programs to encourage and recognize talented people. The company is also empowering employees to do their best. For me, it's been a great journey from Day One.
A passion for data
Make no mistake, NTT DATA is a performance-driven organization. And I have never felt gender as a differentiator in achieving my career goals. We are also an organization that loves data, and it's hard to acknowledge that, although more than 50 percent of the workforce hired as freshers were women, we notice those numbers are declining as we grow as an organization. That is the number one factor in determining the need for retaining women — providing them the required support in attaining work/life balance, aiding them in their career path, and enabling them to move into leadership roles. In 2012, we initiated the Women's Initiative at NTT DATA Services, a precursor to Women Inspiring NTT DATA (WIN), which provides women employees with opportunities to engage, share experiences and learn best practices. Through that initiative, I have had the privilege to meet and interact with several interesting and strong women and girls from diverse backgrounds. I believe we can all learn from each other, so I actively provide opportunities to allow women to share their journeys and experiences. I have been part of numerous conferences, conducted by industry bodies and educational institutes, including thought leadership opportunities at NASSCOM India Diversity & Inclusivity Summit.
Recognition on a global scale
NTT DATA India has been recognized for our accomplishments: We were awarded the Best in Diversity Impact Award in 2017 by the World HRD Congress, and the Best in Diversity Impact Award in 2015 and 2016 by the Asia-Pacific HRM Congress. We were also featured in the second edition of Women Friendly Initiatives by IT Companies published by Assocham in 2017 and in NASSCOM Community Blog.
WIN's vision is to establish NTT DATA Services as a gender-inclusive corporation, resulting in improved innovative IT services. And we have been doing just that, be it through welcoming new mothers back to work after maternity leave, Women's Day celebrations across locations, the WINning Edge Program for the aspiring women leaders, workshops on parenting, work/life balance, self- defense, health and nutrition, financial planning for women, talent shows, cooking competitions and a lot more.
Holding ideals in high regard
I hold each of the WIN objectives in high priority, as each one is connected to the other, whether I am working on making our organization an employer of choice for women; providing opportunities for advancing leadership skills; or improving workplace flexibility, engagement, and education. I am also constantly researching and learning how we can do more. We always encourage feedback from our team members. Feedback, be it positive or negative, has been always very helpful in decision-making. We also try to ensure that work never becomes all-consuming — leaving time to give back. Through various initiatives, we provide every individual team member an opportunity to contribute and demonstrate our commitment and passion to a rich and diverse Corporate Social Responsibility (CSR) program.
As someone rightly said, "The future will always be bright when one stays focused, optimistic and confident." There may be challenges along the way, but those will only help us grow. We have a strong team, and our efforts are on-going with our various employee engagement initiatives. With our leadership continuing to inspire team members to raise their own bar, I have no doubt that NTT DATA will continue to be a leader in the most preferred organizations to work.
Read what Toshio Iwamoto, President and CEO of NTT DATA has said about International Women's Day.
To learn more about WIN check out these previous posts:
To learn more about #PressForProgress, visit the International Women's Day website.