How Automation Fixes the Biggest Issues Facing Healthcare Service Desks Today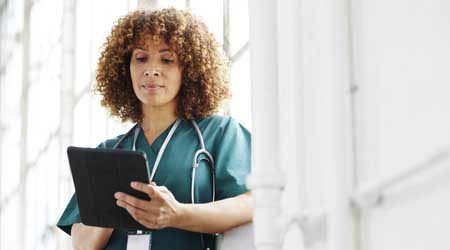 In an industry such as healthcare, service desks bear an essential responsibility that often goes overlooked. Whether it is a patient calling in to update personal information or a healthcare practitioner trying to troubleshoot certain apps or devices, having a service desk that can quickly address their issues is key to maximizing stakeholder satisfaction and outcomes.
Inefficient service desks lead to an increased workload for healthcare IT teams whose primary focus should be developing and implementing new tools and technology. This additional burden creates slower response times, leading to fewer end-users willing to engage the service desk in the future, thus creating more potential unsolved IT problems that further lower productivity and satisfaction.
To address this, many healthcare organizations are increasing their investments in service desk solutions and upgrades with automation capabilities. Automation, which optimizes your service desk processes to minimize time-consuming and repetitive tasks, has been shown to create huge dividends and solve a wide range of problems in current systems.
Here is how automation addresses the most common obstacles that we have seen based on our experience implementing healthcare service desk solutions:
Low satisfaction despite high costs
Many healthcare service desks are understaffed and overworked, leading to long wait times and frustrated end-users and patients. All that burnout leads to high turnover for the service desk, resulting in higher costs for recruiting and training new team members. The costs of maintaining a service desk platform were already high to begin with, and any turnover only results in further strains on finances and productivity.
To make matters worse, end-user satisfaction plummets if your service desk is not performing at optimal levels. Whether it is employees within the organization frustrated with not being able to do their jobs properly or customers irate with having to jump through hoops to perform simple transactions, the overall impression of an organization and its products is lowered due to an overburdened service desk.
The main benefit of automation is that it reduces the number of tickets that your healthcare service desk team deals with. It leads to a faster resolution to user problems, resulting from improved performance in Speed-to-Answer, Call Abandonment, and First Contact Resolution metrics.
All these efficiency results in improved trust and an improved end-user experience. It also lowers the cost per ticket resolution, which means better ROI on service desk spending. When you spend less on hiring and maintaining your service desk capabilities, you can redirect funds to other projects or even reduce the IT budget due to lower expenditures.
Inefficient and time-consuming processes
Service desks may be bogged down by outdated or inefficient processes, which can hinder their ability to assist patients and end users effectively. If the correct protocols are not in place, it can be difficult for service desk agents to access the necessary information to answer end-user questions and resolve issues. Everything must be built into the system so that nothing slows it down.
This also applies to tickets from employees within healthcare organizations. For example, when a practitioner tries to procure new supplies or equipment, the system must quickly know who they are, what they do, and whether they need it. The system should also know what they can order without asking and what needs to be approved (and by whom).
An automated system takes care of this without the end-user engaging a support agent directly. This could come in the form of a chatbot that can automatically take unstructured input and use AI and analytics to determine what is needed. The system turns that simple chat request into an actual order without involving a service desk team member.
Managing a healthcare service desk itself can also be very high maintenance. New user issues are always coming up, which means that the content in your service desk database needs to be checked and updated regularly. Having outdated knowledge base documentation, employee WIKIs, or other self-service reference materials can escalate the existing problem or create new ones. An automated service desk solution with content management capabilities allows managers to update the knowledge base easily and have that information accessible to team members quickly.
Data security concerns
With the increasing importance and reliance on electronic health records for patients and users, service desks must be cautious in protecting patient data from breaches and unauthorized access. Healthcare organizations must ensure that the right people are accessing the right data — and only the data they need.
Automated service desk systems can provide additional layers of security for protecting patient data and ensuring compliance with regulations. For example, emails suspected of being harmful or spam can be automatically blocked before being sent to an actual help desk agent to be processed. This saves time and effort in addressing tickets from real users needing help with their problems.
In addition, the data security features of an automated system allow organizations to control the type of data that each service desk team member can access. Permissions, such as read-only or edit, can also be configured based on rank and role.
Automate your service desk today
With more than 50 years of healthcare industry insights, our experienced team can help you implement an automated solution to your needs. Contact us or visit our healthcare practice online to learn more about elevating your service desk capabilities.