Future of the Modern Workplace? Human-centricity Is the Answer.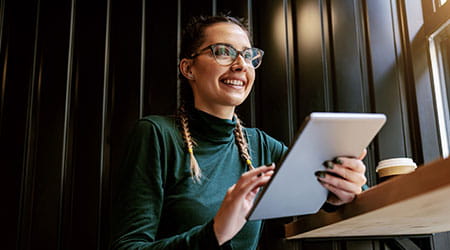 What is the first image that pops into your mind when you think of a 'workplace'? A corporate setting packed with cubicles, computers, and lots of busy employees? In the most straightforward words, a workplace is just a space to deliver maximum value to your clients. It can be a clinic for a care provider, a classroom for a teacher, or even a laboratory for a scientist. While many such workplaces have existed for different types of workers. But a new space has entered the spectrum in the last two years — a virtual one. The merging of physical and virtual spaces has resulted in a transition from traditional work practices to a hybrid approach that offers employees the flexibility to work from anywhere, on any device, and at the time of their choice.
This transformation has not only been sudden but also a boon in disguise. Statistically, 62% of U.S. employees agree that their work-life balance improved in the hybrid workstyle. For many, hybrid ways of working have become a crucial factor in choosing a new job. But from the organization's perspective, the modern workplace is an entirely new avenue where multiple technologies, people, and operating models intersect at different angles. Such an avenue demands thoughtful recalibration and circumstantial reimagination of the fundamentals of the 'workplace.' Additionally, the cultural and generational changes in the talent pool are yet another critical challenge that needs to be addressed urgently. It is expected that by 2025, more than 75% of the workforce will be Millennials — a generation that is all about experience, digital-friendliness, and self-service options!
To cater to the shift to hybrid work and the resultant change in expectations, organizations have accelerated their investment into new technologies to enhance the workplace experience. But given the nascent stage of this modern workplace, technology leaders are still zeroing in on the perfect strategies, implementation steps, technology best practices, and foolproof policies to put in place. While there may not be sure-shot tactics to ensure the success of a modernized workplace for a particular business in a particular industry, there are a few essentials that can help in taking the next steps forward. Here are the five most essential elements of the modern workplace:
1. Cloud enablement for any time, anywhere access
With organizations operating in a distributed workplace model, technology leaders are accelerating their investments in cloud-powered digital technologies that require limited to no on-premises infrastructures to deliver services across locations. Digital Employee Experience (DEX) management and Unified Endpoint Management (UEM) are some key technologies gaining mainstream traction due to their on-field empowerment of teams. DEX empowers operations with insights into the endpoint experience, user sentiment, and endpoint configuration/security posture. This is crucial for business leaders to resolve issues effectively and determine potential automation use cases. Embracing UEM enables enterprises to deploy modern device management across all devices for better control and real-time visibility.
2. Persona-based collaboration for holistic interactions
Unified collaboration and connectivity solutions boost employee productivity, experience, and engagement. While there are many such tools and platforms in the market now, such solutions should be picked carefully to address the unique needs of different employee personas. For instance, a frontline employee on the field requires time-sensitive, handy, and interactive collaboration tools. In contrast, a knowledge worker with a desk job requires more visualization of data with dashboards. As a result, collaboration services for every group should align with the underlying workflows.
3. Zero-incidence management for no-latency resolutions
To prevent device downtime and elevate the employee experience and productivity, enterprises must invest in zero-incidence management solutions to prevent incidents before they occur. Enterprises should consider implementing AI solutions to enable the self-healing of issues as soon as they happen and prevent configuration drifts.
4. Hyperautomation that compliments the workforce
Many enterprises are employing artificial intelligence and machine learning to accelerate feature development, optimize the performance of workplace IT operations, and elevate employee productivity and experience. Technologies such as chatbots and intelligent virtual assistants can help employees perform mundane tasks, from raising a ticket for incidents, scheduling a meeting, and getting policy information to providing approvals on requests from other business applications. Automation solutions can also be deployed for the most common user requests and issues, eliminating digital friction.
5. Flexibility of every kind
Flexibility has no limits when it comes to a modern workplace. While leaders were initially skeptical about the hybrid work model in terms of culture and business output, it has now gone on to improve work culture and increase employee engagement by leaps and bounds. Flexibility, however, is not limited to the location of work. It also includes the organization's ability to offer its employees the choice of devices and scale up and down the services based on business needs. For instance, a virtual workspace can be provided to employees to enable productivity from day one with the ability to work from the device of their choice.
Companies should tap into solutions that allow superior employee experience by investing in technologies that holistically aid employee productivity and empower operation teams to deliver seamless, always-on services.
Learn more about today's workplaces, their characteristics, and the upcoming trends that drive modern digital workplace.