The Greater Good: How the COVID-19 Pandemic is Impacting Service Experience Expectations and Measurement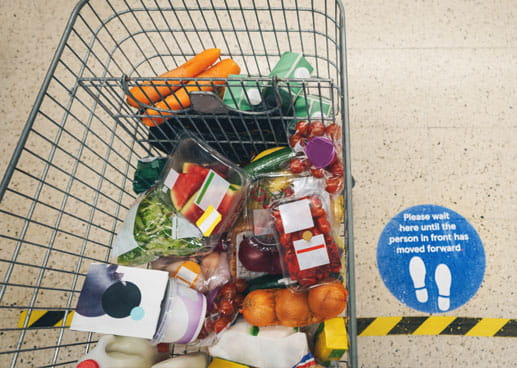 By Laura Keller with contributions from Ed Hsieh, Senior Director of Customer Experience

In our modern marketplace, the most successful businesses are the ones offering exceptional customer service experiences. Companies such as Amazon, Target, and Starbucks have set the gold standard for offering efficient, seamless interactions across digital and physical channels with clear consistent communication. Their overall goal? Making — and keeping — their customers happy while addressing the health of the overall business.
Now, considering the COVID-19 pandemic, customers are no longer only focused on satisfaction, they're concerned about staying well. New customer questions may sound like: Is it safe to go to the store? or Is the person packaging my online order going to wear a protective mask and gloves?
These new, often sobering health-related concerns are urgent factors that Customer Experience (CX) professionals must quickly grasp and measure against. The brands who take these concerns into account will be setting a new standard for what exceptional customer service looks like and experience more successful outcomes.
The greater good
As designers, our goal is to create successful customer experiences that generate financial gains for companies. A huge motivating factor for us now is designing experiences that make customers and employees feel safe. This raises our entire existence above customer satisfaction scores and bottom lines into designing experiences that achieve a greater social good.
Customer safety is job one
Customers need assurances throughout their purchase journey that the brands they interact with are mitigating the public health risks associated with Coronavirus. This means communicating early with customers about any and all safety efforts; whether it's the frequent disinfecting of surfaces, contactless interactions that leverage pre-ordering or mobile payments, or limiting the number of people allowed in a store at a time.
More customers also want transparency in the behind-the-scenes journey of the product, including supply chain, to feel comfortable prior to purchasing. These customers may ask: How many people touched this before me? Were they wearing protective gear? Has enough time passed for any potential germs to die? Companies need to be comfortable sharing the processes, best practices, policies and guidelines they had kept out of the public eye because it didn't seem important.
Employee well-being matters
Also, more than ever, customers are paying close attention to how companies treat their employees. Throughout the pandemic, customers have wanted to see that employees are provided the right Personal Protective Equipment (PPE) and that management is monitoring their proximity to each other as well as the public. The more socially conscious customers — which is a rapidly growing segment of the population — also care about the financial well-being of frontline and furloughed employees; they want to see that companies are offering paid sick time and increased overtime wages or other financial benefits. The companies who do this will garner greater loyalty from these customers.
Experience measurement and corporate accountability
Customers don't want to just read marketing messages about what companies are doing to address their concerns; they will want proof. Ensuring tracking the data and insights that customers care about is key. Standard customer experience KPIs will not suffice; measurement strategies will need to now include metrics that prove success against issues such as safety and employee well-being.
This data collection may translate into surveys to specifically capture whether customers felt comfortable with the experience and whether they trust the company with their health. It may also mean exposing data about how a product or service is produced and employee operations, which has historically been private to the organization.
Finally, it likely means updating the company's social media strategy to monitor and respond to customer or employee concerns about their experience. If customers or employees feel a company presented risks to their health, they're most likely going to be very vocal about it on social media. Being prepared to respond and quickly address those issues will mitigate customer distrust. Having the appropriate social media strategy combined with a journey orchestration platform can provide a real-time automated way of responding to different customer scenarios. Based on collected data from customer interactions, important, timely and relevant messages can be presented to the customer, alleviating fears and instilling trust. Beyond that, actions can be kicked off to investigate and resolve customer issues, and can be reported back to the customer to measure success and optimize the entire process.
Don't delay
Now is the time to put the right CX KPIs and measurement strategy in place to address health-related needs and concerns of customers. The efforts will pay off when companies retain existing clientele and attract new customers, all from putting customer needs, preferences, and overall well-being above all else.
Visit our latest COVID-19 resources.
Read all our blog posts related to COVID-19.
Discover how NTT DATA is re-designing the customer and employee experience.