Redefining Contact: How Safety Concerns Are Changing our Experiences in Public Spaces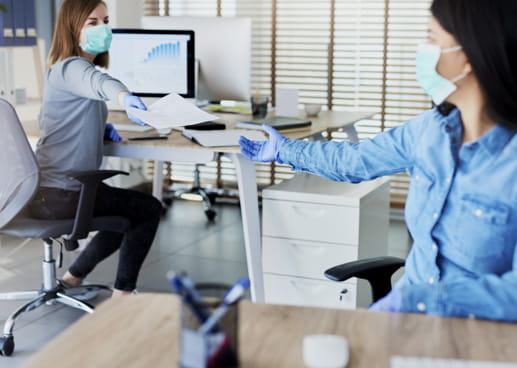 There is the expectation that eventually the majority of COVID 19-related restrictions will be lifted and many businesses will slowly begin to reopen — not just in here in U.S., but around the globe. As cultures around the world start to define new safety measures, what can companies do to ensure their place of business is safe for their customers and employees?
How do companies bundle technology and sanitization/safety capabilities together to protect our employees and our customers? Can we drive more touchless or touch-what-you-trust interactions? And when there are shared surfaces (such as those found in banks, grocery stores and restaurants), how do those businesses help ensure customers can feel comfortable? How do we accommodate those who aren't comfortable with using services in public? Finally, how do we proactively change company cultures so customers, employees and partners can co-exist using safe practices?
These are important questions that my team here at NTT DATA are actively exploring. These questions were raised recently with a global finance client who wants to ensure customer and employee safety at their bank branches. For the sake of this article, I'll offer solutions specific to the banking industry but they are applicable to a range of commercial, municipal and other public settings.
Due to the COVID-19 pandemic, your level of concern about touching shared surfaces may have changed. Now, when you approach a bank branch new questions and concerns may come to mind: Is there open parking or must I push a button for a ticket to enter the parking lot? Must I touch the door handle on the bank branch to enter? Must I touch a keypad at the teller to verify my identity? Or touch the keys on the ATM? What do I do if I want to talk to a banker? How will that be handled? Will other customers respect social distancing while waiting in line for the teller?
Similar questions arise in other public contexts: Are my conference room chairs hygienic? Can I pay my utility bill in-person without contact? Must I touch that credit card PIN pad or a vending machine's selection buttons? Do I have to flip a switch to turn on the lights in this room?
My team and I take a human-centered approach to determining the best solutions for our clients and their customers, employees and partners, and explore each environment thoroughly, starting with the first interaction your customer and employees experience once arriving at a property until they leave. With this approach in mind, let's explore the three types of solutions companies should plan for:
No contact (in-person experiences)
Safe contact (in-person experiences)
Remote contact (online/app interactions)
No contact
No contact means no longer having to touch shared surfaces to complete tasks. This group of solutions creates a great sense of comfort for people interacting in your spaces. It also visibly exhibits a company's caring intention to keep their employees and customers safe.
A few examples of no contact solutions for a bank branch may include:
Install automatic or foot-pedal-operated doors so customers no longer touch handles. Create a mobile app that customers can use with the function to set appointments to see a banker and queue their place in line to see a teller. This allows customers to avoid waiting in the lobby or in a line.
Leverage QR Codes, NFC or contactless RFID in cards for authentication, validation or even interaction with ATM machines so you can touch and interact less with shared surfaces. For example, leveraging a mobile app to input withdrawal requests, so when you arrive at an ATM you scan a QR code to process your request. The same functionality could be completed with the RFID in your phone or you could also also validate by using the contactless chip in a debit card.
Incorporate voice-based input, voiceprint technologies and/or facial recognition for identity authentication and transaction initiation.
Use voice interactions and motion sensors for controlling shared technology from lighting to conferencing equipment.
Safe contact
Some public interactions will always require human interaction and touching surfaces, but the concern is how make these touchpoints safe and comfortable for customers and employees.
A few concepts for safe contact measures might include:
Installing smart doors or above-door digital signage combined with optical sensors to monitor and control building population to limit the number of people allowed in the branch.
Incorporating 6-foot-square designs into flooring to keep customers mindful of proper social distance.
Installing cubicle separators and workplace separation shields.
Using motion-activated UV sterilization lights with an in-use message that states: "Please wait while we sterilize this surface." This same practice could apply to shared devices, such as tablets/computing environments, furniture or entire rooms.
Installing sterilization units for mobile devices could be a courtesy service for customers and employees. This services could also be good for shared devices, such as tablets used in retail spaces.
Using cameras for building and office population density analysis with digital signage for queue management, for example, "Pleasse wait to enter the building."
Keep in mind that humans experience two kinds of safety: perceived safety and actual safety, and it's important to make sure these realities align.
Remote contact
We must also consider that there will be customers who won't want to go in public at all for certain activities, even after restrictions are lifted, either because of the need to learn how to change their behavior or for lingering safety concerns. New solutions will need to accommodate the preferences of every customer based on their comfort levels.
Some possible remote contact solutions (as it refers to banking) include:
Virtual advisory sessions to replace in-person interaction for financial planning or large home purchases.
Additional value-add features on web and mobile platforms, such as improved mobile banking, arranging for pickup and dropoff of products, or augmented reality shopping.
Prolific self-service tools for troubleshooting issues with products without requiring in-person assistance.
Improved remote technical support for employees who will continue to work from home as well as customers interacting with more complex processes or tools from home.
As you consider solutions that work in your context, keep in mind that not all answers will require a complex or technology solution; it can be a simple as 6-foot colored carpet squares on the floor to encourage social distancing.
In the same vein, it's important to understand how your customers and employees wish to interact with you. What about the customers who aren't interested in using technology? Less tech-savvy audiences may resist adopting solutions using mobile apps or video conferencing. For this reason, incorporating a well-rounded strategy with a mix of digital and physical solutions may be the most accommodating and successful approach, depending on your customers' preferences.
Ultimately, it's up to you and your organization to help customers and employees feel safe and comfortable while keeping them actively engaged. How your company responds to the issue of social distancing will positively or negatively impact your brand. This is your opportunity to proactively exceed your customers' and employees' expectations while creating a safer environment for all.
Visit our latest COVID-19 resources.
Read all our blog posts related to COVID-19.
Learn more about NTT DATA's solutions for Banking and Financial Services.