Business Process Outsourcing
We lead the development or optimization of a framework for CDD/EDD- and KYC-compliant client onboarding for all industries and existing customers, including fraud detection, machine learning and RPA. We offer hosted and cloud platforms through our onshore/nearshore centers for solutions at scale.
KYC Consulting
Our KYC Solution includes roadmaps and accelerators for focused delivery, and tools and partnerships for fast, seamless integrations.
Anti-Money Laundering Consulting
Our experienced AML/KYC subject-matter experts bring knowledge from the financial industry, law enforcement, and military intelligence. Our experts identify gaps in data collection, authentication, analytics and AML risk flag monitoring.
Entering the New Era of Risk and Compliance
In this new ebook, we share a top risk and compliance trends forecast that will help prepare executives, CISOs and risk managers to respond faster to today's most significant challenges.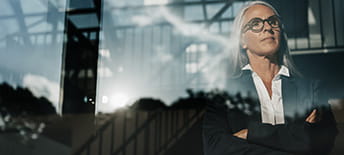 The Five Greatest Risks Facing Organizations Post-2021
How can organizations and leaders respond to today's unpredictable risk management and regulatory environment?