The Time for Digital Reinvention Is Now
Digital transformation empowers companies to connect programs and processes in new and creative ways, letting you identify and serve changing customer needs. Yet, many organizations that once had multi-year digital transformation plans have realized that they must expedite change to effectively compete for customers in today's rapidly evolving marketplace.
Our new ebook shares the ways you can root your organization in digital reinvention to fuel agility and innovation, unlocking new ways of serving customers and tapping into new revenue opportunities.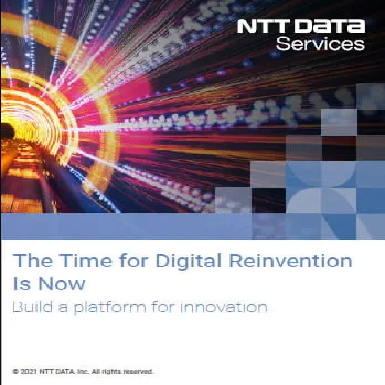 You'll learn:
Why digital reinvention will help your organization grow its top line and more effectively manage the bottom line
The role of digital reinvention in building resilience that enables you to quickly adapt products and services to changing customer needs
How enterprises can uncover new potential and innovative ways of working with advanced technologies like cloud and AI
How a platform for innovation can help grow agility and create competitive advantage – even if you're starting from a step behind