The Four Drivers of Digital Transformation Success With ServiceNow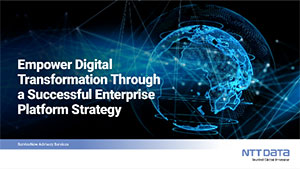 A successful digital transformation that leverages the ServiceNow platform requires you to engage in serious thought. It's crucial to define transformational objectives and align these objectives with a strategic roadmap. From this position, organizations are better positioned to transform across the people, process, technology and data channels.
Download our eBook to learn more.
What You'll Learn:
How to align platform goals with the broader strategic objectives of the transformation
Why successful digital transformation relies on four core building blocks
The six key forces that positively and negatively influence digital transformation success
How to tap into the full power of the Now Platform through our seven-phased approach