Simplify the Digital Health Journey: Healthcare, Reinvented
There is no one platform that can keep up with the rate of change in healthcare. To enable a true digital health transformation, you need a framework that scales with you and supports a flexible strategy and modular approach. One that leverages data, automation, and AI—when you're ready.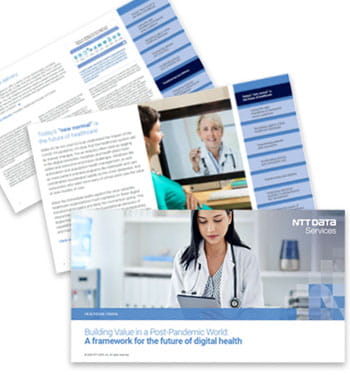 Download our complimentary ebook to learn how to:
Remain agile in a fluid healthcare landscape
Empower patients and consumers
Accelerate primary and community care
Transform care delivery
Embrace advanced analytics
Unlock the power of data to improve healthcare
Discover how NTT DATA can help your organization pivot from resurgence to reinvention with a digital healthcare framework that puts patients first.
Get the eBook.