ServiceNow Tokyo Release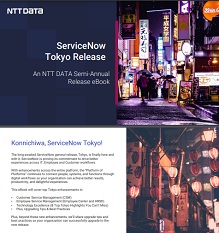 Tokyo, the long-awaited ServiceNow general release, drives better experiences across IT, employee and customer workflows. Our eBook gives you everything you need to know about it.
With new enhancements, the "platform of platforms" continues to connect people, systems and functions through digital workflows so your organization can achieve better results, productivity, and delightful experiences.
What You'll Learn
Enhancements in Customer Service Management
Improvements in Employee Service Management (Employee Center and HRSD)
Top Tokyo highlights for uses
Upgrading tips and best practices
Dive into the details today by downloading your copy.