An RFP Template to Drive True Digital Transformation
Even the most digitally forward organizations are forced to rethink their. That's why we're sharing a new Digital Transformation ServiceNow RFP Template that will help you find an experienced partner to support your goals.
Over the past six years, we've seen RFPs shift from tactical ServiceNow implementations to massive digital transformation catalysts.
With your organization's business continuity on the line, the exercise of writing RFP questions and reviewing potential vendor answers is no longer about simply searching for a vendor to help you implement the technology. It's about finding a partner who understands your organization's overall strategic vision and is nimble enough to readjust according to your organization's shifting needs.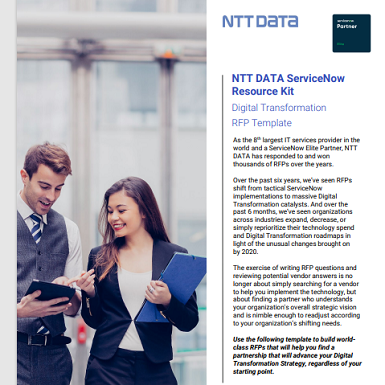 Here's what you'll learn:
Understand the importance of securing a successful Digital Transformation in an increasingly digital world.
Compare how every industry has been evolving their digital strategies.
Rethink and evaluate your strategies to focus on any weaknesses in organizations' digital strategies.