Unified School District Creates Digital Connections With ServiceNow
Like schools all over the country, one large school district saw classrooms go virtual practically overnight at the start of the COVID-19 pandemic. As phone calls and requests for remote help skyrocketed, this school system knew it needed a better way to stay organized and continue offering academic and social services to the community.
The district partnered with NTT DATA to unify communications and streamline services. Already on a ServiceNow platform, it made sense to leverage its potential to make goals a reality — in a short timeframe.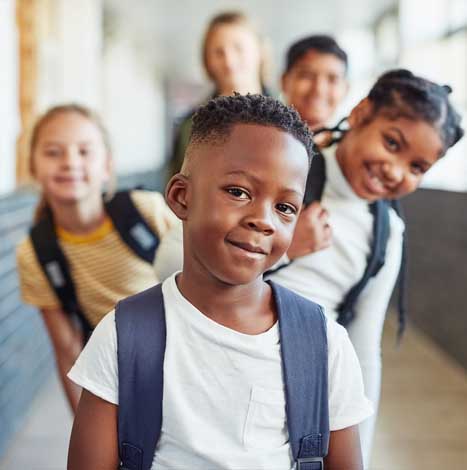 When COVID-19 restrictions made virtual learning a new reality, a large unified school district sought a digital solution that would enable and empower connection, rather than keep students and their families detached while away from the classroom.
Understanding that their legacy systems and outdated call fielding processes were not sustainable in this new climate, school leadership sought to streamline services. A positive, modern user experience where members could easily find answers to their questions and quickly make requests was the end goal.
An improved user experience increased satisfaction for students, parents or guardians and community members
By collecting metrics and identifying trends, the school district identified areas to bolster improvement and drive efficiency
Aligning to a single plan
As one of the top ten largest districts in the nation, this unified school system serves over half a million students, parents, guardians and community members on the West Coast of the United States. Its services extend far beyond the classroom, offering numerous social programs including housing support, afterschool programs, transportation and more.
Previously, each individual school was left to its own devices to manage the overflow of phone calls, emails and comments coming from families as the pandemic grew. This approach resulted in schools using various combinations of applications to track correspondence, including email, spreadsheets, online ticketing systems, phone and chat. In many cases, information on these interactions went unsaved, resulting in a tremendous lack of visibility at the district level.
The added pressure from parents and guardians who could not physically visit schools to voice concerns prompted the organization to find a digital solution that could unify their disparate systems and processes. A centralized Enterprise Service Desk could be a simplified entry point for frequently asked questions and concerns as well as a single source of truth to track requests and correspondence.
Partnering with a trusted advisor to build a true CSM solution
With the stakes so high for the unified district and its students, failure to act wasn't an option. Already set on ServiceNow as their platform of choice, the school district worked with NTT DATA for advisory assistance.
The first step in the collaboration was defining the environment, culture, constraints and aspirations to create the right solution that would be sustainable for years to come. This extensive gathering of requirements happened over the course of six weeks, with in depth conversations with multiple levels throughout the organization.
NTT DATA's ServiceNow experts gained a deep understanding of the importance of a sustainable solution by staying as close to out-of-box as possible to guarantee the solution would withstand future platform upgrades. Together, NTT DATA and the school district developed a tailor-made solution that would set them up for success for years to come.
Prepped, planned and ready to roll
With the advisory phase completed, teams had a clear target area to hit the ground running and enter laser-focused to the actual implementation of the proposed solution.
The ServiceNow blueprint uses ServiceNow Customer Service Management (CSM) to optimize how they receive and respond to requests. This allowed the school district to move from reactive to proactive service for students and their families. With this solution in place, it will be able to easily identify areas that need more attention. For example, a district may have many requests for Russian language translation, or a district may experience an unusually high number of late school buses.
By establishing Knowledge in ServiceNow, the school also has new reporting and metric capabilities so they can make continuous improvements long after their initial rollout.
Revolutionizing service for students and their families
Their new solution will also integrate seamlessly with their existing telephony system, Amazon Connect, thus allowing them to locate information on callers and share it with their agents. This will cut down introduction time and empower agents to anticipate their callers' needs to provide a super-simple experience for users calling into the school.
Rather than the system placing them on multiple holds as their call gets routed to the appropriate office, all of the routings will take place on the back end of the system so that calls will automatically route to the right team or offload to self-service.
Already leveraging Self Service and Virtual Agent in ServiceNow to handle Tier 0 requests, the school has begun filtering out a sizable chunk of work for their agents. Right now, Tier 1 requests are routed to agents while Tier 2 requests filter to specialists.
This framework makes the process more efficient for everyone involved: parents or guardians who are busy with work can quickly get information or provide feedback without sitting on hold, and agents have more time to focus on requests that necessitate their complete attention.
Empathy above all else
Looking to provide service in a way that was both intuitive and human, the school district diverged from a traditional routing pattern by prioritizing empathy above efficiency. That empathy serves as the foundation of their new CSM system. For example, it didn't want a new system to waste parent or guardian time by filtering them through self-service if they needed specialized attention.
Making data-based decisions
Beyond their newly streamlined service, the unified school district will soon also have access to a comprehensive view of requests across their school system. Along with the AI/analytics capabilities in the NOW platform, this data will enable them to track patterns and make decisions using real-time data to better allocate resources and serve the community.
Lastly, the district also set up a mobile app to give community members another form of sending correspondence and finding information on the go.
Stepping into the future with ServiceNow
With their blueprint done, the school district now has a clear and concrete roadmap to achieve their goal of providing a modern and simple experience for its users. Empowered with the right tools, the org is now in the process of implementing their CSM solution with our team.
With a unified experience for employees, students, and their families — the unified school district's partnerships are stronger at a time when fostering connections has never been more important.
A large unified school district worked with NTT DATA to leverage the ServiceNow platform and create streamlined communication for parents, students and staff.
Headquarters
United States