ServiceNow Helps Healthcare System Pave the Way for Its People
For more than 60 years, a public healthcare system has set the gold standard by serving patients with top-line treatments and the latest medical technology. This targeted, thoughtful approach has solidified its reputation as one of the most comprehensive and advanced healthcare systems in the world.
Already equipped with ServiceNow's ITSM solution, the organization began exploring the platform's HRSD capabilities. Originally scoping a broader implementation as part of an HR transformation roadmap, it faced the ultimate challenge of 2020: serving customers during the height of COVID-19.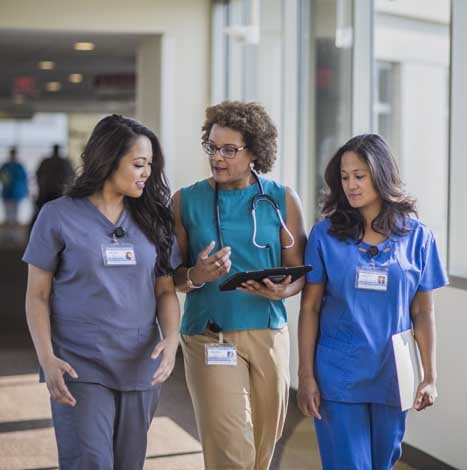 It was time for a change. For this leading healthcare system, HR processes were overly manual, requiring key resources to fulfill simple tasks. Recognizing a need to rethink HR service delivery, the healthcare system's leaders saw the existing ServiceNow platform as an enabler for HR transformation.
The organization turned to NTT DATA, a longtime partner, to embark on the project — a scalable design to enable modern capabilities for employee services. More specifically, they sought a solution that would maximize centralization and streamline delivery support models for manager and employee personas.
The goal? Automation, self-service and the consumerization of the employee experience for a modern service delivery model.
Lays the foundation for establishing tiered HRSD routing and streamlines HR services access to improve employee satisfaction
Automates HR service request processes with HRSD case management to improve the end-user experience, reduce manual processes and support an HR shared service center vision
Demonstrates quick wins with Tier 0 support and centralizes inquiry intake through the Employee Service Center
Increases internal communication and transparency with HR Knowledge management and empowers employees to request HR Services through an HR Service Catalog
Integrates the solution with an existing payroll system
The final solution included several out-of-the-box HR services, including HRSD case management with HR services for HRIS and benefits teams, knowledge management and a payroll integration with the addition of 10 fields to the existing integration.
Laser-focused on growth and learning
This foundational approach was a great fit for the organization as it ventured into the HRSD space for the first time. In fact, the organization immediately recognized the value of the solution and requested a six-week extension of a standard two-week hyper care period and supplementary enablement sessions for HR teams.
This extended hyper care support allowed employees to become well versed and confident in the software, ensuring they fully understood how the platform worked before assuming independent management of their new solution.
This project is also a prime example of how HR projects differ from other ServiceNow projects. Specifically, HRSD projects require care and attention to the details of the requirements, technical details, support, and follow-up around user testing.
IT and HR as the ultimate dynamic duo
The partnership between the organization's HR and IT teams was critical to success. HRSD projects require expanded coordination with IT resources that play an important role in platform ownership. While the IT team wasn't involved in the day-to-day work, it was consistently looped into the overall change management throughout the project timeline. HR and IT teams supported one another and communicated proactively. This strong working relationship ensured a smooth and speedy communication and planning process, minimizing bumps along the way.
Driving true change for real results
Held to its planned schedule, the project debuted with a seamless go-live at the end of the support period, driving self-service, shared services and automation for employees across the enterprise, all in a measured approach. Their new HRSD solution continues to drive organizational change to support long-term HR goals including redefining their employee experience and boosting user adoption.
A major healthcare system implemented a ServiceNow human resources service desk (HRSD) to enable modern capabilities for employee services.
Headquarters
United States