Healthcare Leader Transforms Employee Experience With ServiceNow
A world-renowned healthcare system is setting new standards for care through its innovative delivery models, leading-edge services and commitment to patient-centric care.
Because true innovators never stand still, the company is rooted in transformations that improve patient outcomes and support internal stakeholders, including more than 15,000 employees.
That's why it turned to NTT DATA, a trusted ServiceNow Elite partner for support in implementing the ServiceNow HR Service Delivery (HRSD) platform to modernize its service operation and create a unified knowledge and service portal across the organization.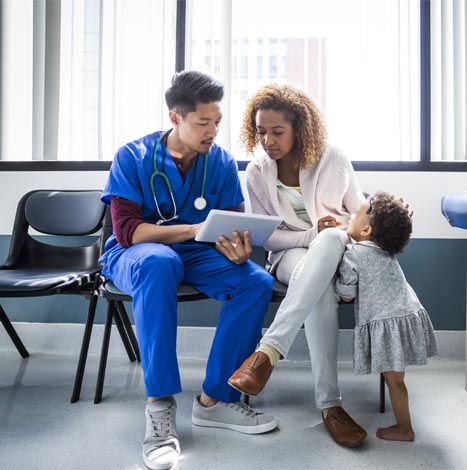 As an early adopter of ServiceNow IT Service Management (ITSM), the organization had a basic implementation of an HR Service Management (HRSM). As part of its continuous drive for innovation, it decided to expand and modernize its ServiceNow capabilities to advance services, gain efficiencies and create a more seamless user experience. To that end, the IT and executive teams chose to implement ServiceNow HRSD platform.
Creates employee services portal for streamlined service and knowledge delivery
Eliminates time-consuming and error-prone manual workflows
Expedites the routing of issues and requests with intelligent automation
Increases scalability and reduces maintenance costs with out-of-the-box capabilities
Improves resource and HR ticket management
Accelerates employee badging services with a custom application
The healthcare system's IT team, HR team, and NTT DATA developed a phased implementation plan that mapped out the organization's requirements for HRSD, including out-of-the-box HR services for case and knowledge management, onboarding, an HR Service Delivery Agent Workspace, and Now Mobile.
The plan also incorporated integrations with payroll, learning management and Workday systems and called for a customized employee badging service application.
The goal was establishing a single source of truth housed on a ServiceNow Employee Center. This unified portal would streamline service and knowledge delivery across the enterprise.
Bridging the gap with a NOW platform finance application
After the initial requirement of gathering for the planned HRSD and Employee Center implementations, the team automated workflows for finance requests and provide real-time reports for informed decision-making.
The healthcare organization had used manual, time-consuming workflows for compiling requests about payments, vendors, capital spending, cost centers and signature authorizations, leading to outdated data. A custom ServiceNow application pulled real-time data for these reports, with plans to integrate them into the unified Employee Center to personalize the user experience, was developed.
Designing a modern, scalable platform
HRSD is a significant implementation for any organization. This healthcare organization faced the added complexity of supporting the diverse needs of hospitals, primary care and specialty care locations.
NTT DATA used its proprietary Accelerated Implementation Methodology to successfully address the necessary process, technology and change management. Together, the team prioritized core HR services and capabilities, following best practices to ensure project completion on schedule while minimizing customizations that could harm future maintenance, stability, and scalability.
To meet an aggressive release schedule, the team used a day-zero plan and weekly sprints to accelerate the project onboarding and quickly adjust to changing requirements. It encouraged using ServiceNow ITSM to reduce manual effort and improve planning efficiency and transparency. The initiative also included knowledge transfer and support to ensure a successful governance plan for the organization.
NTT DATA worked with the organization to support the core rollout of HRSD, with services and integrations to support a wide range of use cases, including:
| | | | |
| --- | --- | --- | --- |
| Case and knowledge management | Onboarding/Offboarding | HR Service Agent Delivery Workspace | Now Mobile |
| Payroll and Timekeeping | Employee Benefits | Education Assistance and Learning & Development | Workday Integration |
| Employee Center | Badging (custom) | Careers | Compensation |
| Employee and Labor Relations | Remote and Hybrid Work | Health & Life | Inclusion, Diversity, and Health Equity |
| Time Management | Performance and Growth | Leadership Academy | Workplace Accommodations |
The planned integrations support additional use cases in specialized areas including access to the learning and development portal and resources, Workday (to sync employee profiles and tasks), and enhanced capabilities to accurately capture timecards for shift-based employees.
Replace manual processes with automation and a powerful Delivery Agent Workspace
Manual processes in any organization can be inefficient and error prone. Despite having a basic HRSM in place, the healthcare organization still managed many services manually, leading to a significant amount of email and phone traffic. In addition, all service requests were routed through a Tier 1 team, which added to resolution times and created visibility issues.
The HRSD implementation aimed to replace manual work with intelligent automation, resulting in more appropriate routing of service requests and reducing traffic volume through email and phone.
Although the IT team was already leveraging ServiceNow's HR Service Delivery Agent Workspace, HR was not. The new implementation brought HR into the Agent Workspace. That change helped eliminate information silos and distribute service queries more effectively across the organization. Real-time visibility also gives agents and managers greater insight into the status of actions or identify trends to improve the employee experience.
A module in the Agent Workspace supported the transition from the previous HRSM system. This allowed legacy cases to be worked to closure separately or alongside the new HRSD cases in a queue, ensuring accessibility and accurate data and reporting of issues from the beginning.
Empowered decision-making with analytics and reporting
With the introduction of more services within HRSD, the organization can now report on service requests and agent activities that were previously managed manually. This has enhanced the reporting capability, providing more accurate and up-to-date data for decision-making.
The team's implementation of HRSD provides out-of-the-box reporting and analytics on performance and trends that were not available to the organization previously. The reporting capabilities can be customized as needed, providing management with a better understanding of SLA requirements and which groups handle cases at any time. Real-time and actionable reporting has improved decision-making.
Modernize the employee experience with a unified portal
With its mandate to "help the helpers," the healthcare organization aimed to provide a modern, seamless employee experience for service-based interactions, including self-service access to a knowledge base, eLearning platform, forms, and support. The new Employee Center became the foundation for enterprise-level service, including HR, IT and finance.
The organization migrated core HR services to the new Employee Center, following best practices and focusing on employee perspectives. It plans to expand the case management system with more categories and subcategories as needed. Similar rules will be applied to finance and onboarded into the case and knowledge base for a streamlined user and administrator experience.
As part of change management, new users on the portal were given a virtual guided tour of the features of the Employee Center. The ServiceNow Employee Center allows HR to create curated experiences for each user based on their business, department, or role, reducing complexity in delivering relevant services and support. In addition, the robust knowledge base, with AI-powered search, provides instant results, making it easy for employees to find the information they need.
Support for employee badging
The modernization of service through HRSD and the new Employee Center showed when service delivery was being managed outside of ServiceNow, such as during the employee badging process. Technical support for employee badging was still manual — if an employee arrived to work and their badge wasn't working, admittance required in-person identity verification or renewed badge hardware. In a care delivery system, those delays in employee authentication are costly in many ways.
A custom badging application within ServiceNow significantly improved the badging service workflow, including intelligent ticket routing and a database to track and report service issues across all badge hardware.
Enterprise transformation
True to its vision to be among the most innovative health providers in the world, this healthcare system is committed to furthering its transformation on the ServiceNow platform. The new HRSD solution and Employee Center embody the desire to "help the helpers" and a long-term commitment to improving employee experience.
This healthcare organization increased efficiencies and transformed employee experience with a platform that scales across the enterprise through the successful implementation of ServiceNow HRSD and a unified ServiceNow Employee Center.
Headquarters
United States