Global Paint Supplier Unites HR Departments Across 70 Countries
A leading supplier of paints, coatings and special materials, this U.S.-based company is the largest coatings supplier in the world and a clear industry leader. But its growth and success did not come without internal growing pains.
With no centralized management structure, the organization was saddled with siloed departments and business units. Its 47,000 employees did not have one shared HR system — until a ServiceNow solution was implemented.
The organization modernized its ITSM processes with future-proof Information Technology Infrastructure Library (ITIL) best practices supported by ServiceNow.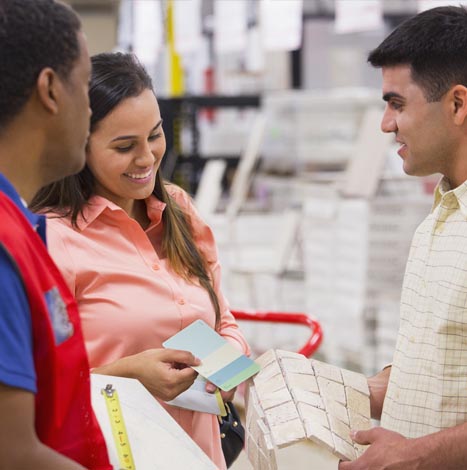 With operations in over 70 countries, this Fortune 500 company lacked an efficient workflow for administering end-to-end management of its IT services — including handling the challenges and risks associated with IT assets.
Exponential growth over the past half century resulted in disparate HR departments operating differently. Some countries and regions of the organization operated with homegrown case management systems, others used spreadsheets – and some had nothing at all.
This created a lack of transparency and visibility across their international departments – and with no centralized management structure and standardized processes, alongside the absorption of international companies, the company sought a concrete plan for successful integration.
57,000+
hits on the ServiceNow HR Portal
8,000+
Knowledge searches (in 10 different languages)
Imports over 3,500 Knowledge Articles
Generates nine different Connect Support chat queues
Produces 400+ response templates
Creates over 250 email notifications in 10 languages
Adds 17,000+ translations
A new vision: global consistency with shared service
Without proper visibility over its assets, the company could not easily report the number of its deployed devices, their locations or compliance status. This lack of visibility resulted in time-consuming and failed regulatory audits. And like many organizations, this company struggled with manual processes such as spreadsheets to track hardware and software assets. And the company's tracking was complicated by its size and highly mobile workforce. Beyond compliance requirements, the lack of visibility made managing risk, security, and cost efficiencies difficult. The company partnered with NTT DATA to find a solution.
With no HR shared services structure in place, this organization had a vision for a larger transformation: to implement regional HR shared services centers, including hiring agents, setting up the center locations, and implementing phone and Interactive Voice Response (IVR) systems. The system needed to keep up with the growing needs and expectations of their employees and unite their international employee base and business units under one umbrella.
Prior to embarking on this HR transformation, the company had designed a new global HR operating model that would be delivered in a multi-year, three-wave program. The organization's main goals were streamlining global HR into one hub and saving money where they could, considering current economic and political trends.
A strategic ServiceNow HR service delivery solution
NTT DATA worked with this paint supplier to streamline and consolidate HR services and activities with a single access point, utilizing ServiceNow's HR workflow to create a global employee portal and provide solutions for global HR case management and knowledge.
The project was set up from an organizational point of view: IT personnel wanted to be able to look out across their organization and see where their "pockets" were and where their deficiencies were, including their onboarding and offboarding processes. They needed to be able to view and manage HR services globally, as they were currently without one unified global system of HR management.
With its international employee base, staff needed to access the HR portal from wherever – whenever – which, for this organization, could mean a traditional office, warehouse, or research lab. It was equally important to create a mobile-friendly version for the organization's younger employees – as their generation demands accessible data on-the-go. However, many seasoned employees still preferred to access the Portal through a desktop browser, so equal attention was given to both mobile and web versions.
Simple, quick solutions for challenging HR needs
This organization took a global approach to HR and used ServiceNow as their platform of choice to automate HR as a shared service. In just under a year, the team implemented a custom Service Portal including chat, HR Case Management, and Knowledge for their HR teams, employees and leadership. ServiceNow also included an integration with their new IVR platform to automatically create cases from phone calls, plus an integration to their existing Workday system of record, which would bring over employee data and initiate HR cases from certain transactions so HR agents could engage with employees with a background of information.
Reports and dashboards were rolled out for executive-level presentations to track cases by channel (phone, chat, portal, email), Portal and knowledge use, as well as First Contact Resolution and Employee Satisfaction.
With its global reach, the company wanted to ensure its employees located across the globe would be able to access the HR Portal in their own language – resulting in 700 hours' worth of configuring translations in ServiceNow. Portal pages and widgets, HR catalog items, chat queue messaging, case surveys, as well as over 350 email notifications were developed and translated into nine languages (not including English), so employees could navigate the pages, find solutions and view communications in their mother tongue. In addition, routing rules were configured so employee cases were directed to assignment groups that spoke the same language for better support.
8,000 knowledge article searches in 10 languages on day one
The project went live on time with 47,000 users across over 70 countries – a huge accomplishment for a company that had never undertaken an HR project of this magnitude. NTT DATA implemented the first phase for Case & Knowledge in Europe, but the HR Portal was accessible to all.
Now, the global paint supplier is empowering its users by providing them with on-demand self-service solutions.
Over 8,000 Knowledge Article searches in 10 different languages were conducted on day one – and only a few hundred HR cases were created. The new ServiceNow HR Portal funneled users to the knowledge base before they could obtain support – whenever, wherever they needed it. Chat options and other more personalized help solutions were also enabled and encouraged users to find their own solutions.
With their new ServiceNow HR Service Portal, employees are "self-serving" by gathering and leveraging knowledge – all through a simple, single access solution, thanks to ServiceNow.
Looking ahead
With the first rollout targeted for only EMEA countries, the organization is moving forward with wave two, rolling it out to the other regions and executing it in-house, thanks to the training and knowledge transfer. The organization looks forward to more successes – empowering their employees to solve their issues easier and faster, and releasing their HR department of mundane, repeatable tasks.
A global paint supplier united HR departments across 70 countries by transforming ITSM processes with future-proof Information Technology Infrastructure Library (ITIL) best practices supported by ServiceNow.
Headquarters
United States