Customer Service Integration After a Merger and Acquisition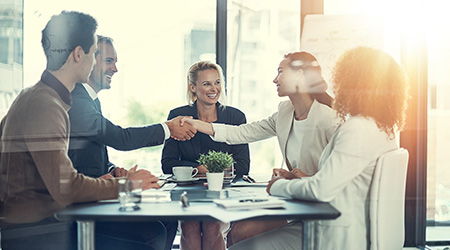 One of the main drivers for mergers and acquisitions (M&A) is to gain economies of scale, putting more transactions through a fixed cost base. Prime targets for this are back-office functions such as finance, human resources, operations and IT. Depending on the organization's size, several, if not all, of those functions will have service centers helping employees with their inquiries, from changing passwords to updating their banking information. They'll also have customer-facing centers answering questions about the merger.
Industry benchmarks suggest calls to the service desk can range anywhere from $2.70 to $5.60, including direct labor, indirect labor, and operational expenses. The costs can rise for more specialized services and application support. Unsurprisingly, any M&A integration plan will have customer service desk integration high on the priority list.
Service desks are on the front lines with staff and customers. During M&A, these groups will be sensitive to any variance in service. If wait times increase or customers bounce around as their questions are answered, it won't take long for them to sour on the deal. That can lead to staff and customer churn, eroding the very logic of the deal.
Customer service integration is critical to M&A success, yet, according to Harvard Business Review, "when companies merge, customer experience is often overlooked." Due diligence will not gain the information needed to plan the integration. As part of our Advisory Services consulting work to implement ServiceNow with organizations post-merger, we've gained valuable insights into how to make this process a success. And it starts before we even walk through the (virtual) door.
People alignment
Clothes retailers Abercrombie & Fitch, H&M and Zara all provide similar product categories, but each has a different customer experience and culture. The first step in service center integration starts with the people. What do we call our staff? Are they crew, associates, ambassadors, representatives or some other vernacular? What do we call our customers? Are they guests, members, clients or shoppers? If we aren't aligned about what we call ourselves or our customers, everything downstream will be disjointed. It's up to management teams to create this alignment and shared vision. Once we know the experience we want to deliver, we can think about the soft skills our team will need — those could be very different from the ones either firm currently has.
Sometimes NTT DATA comes to implement a shared service desk model, and it soon becomes clear that the first step is not discussing customer service strategy but the entire customer experience itself. People alignment is the foundation of solid integration.
Data alignment
Let's be honest; most companies have data debt. Before integrating the customer service team, it's important to eliminate that debt. The customer data must be up-to-date, complete and consolidated before it can be integrated and matched with the customer data of the partner. It sounds simple, but many organizations don't know who their customers are, or at least not in a holistic way. Data is spread across multiple systems of record. That's why there's an entire software category — customer data management — aimed at solving just that, so the organization can know who its customers are. M&A is a good time to get the house in order.
This is where the people alignment stage starts to pay off. For instance, the customer database must have field names that reflect how we refer to customers. You'll need to integrate those fields. Does one company tend to use first names in their customer interactions while the other is more formal with honorifics? Has that information been captured, and if not, what is the data enrichment approach?
I remember one developer who insisted that customer names should be capitalized. It was just his personal preference. This is a simple data transformation, but we were catching customer touchpoints, effectively shouting at our customers in all caps for years. Even small data decisions can cause unintended consequences for customer support teams.
Application alignment
There are two elements to this — the first is the flow of apps used by the customer service teams. The merger is an excellent time to reassess, integrate or replace them. That's a large part of our ServiceNow ITSM work.
The second is to look at the applications the organization uses that the CS team must support. A service agent can typically support 4 – 5 applications, so the more systems there are, the more complex the support organization will become. Each application will need an up-to-date knowledge base, scripts, training documents and a customer portal. Remember that the old app will have a smaller pool of agents with the experience to service requests. After all, no one is learning to support mainframe systems these days. If the goal of the merger is to access economies of scale, that will come from the rationalization of applications.
Customer service is the lens through which customers will judge the organization post-merger. In many cases, it's their only interaction with the company. Equally important, employees will have questions about the changes, which must be handled effectively to retain talent. Success lies in aligning people so that organizations have a shared vision for their customers and the experience they wish to provide. That change management process must precede data alignment to create a single view of the customer and the broader proposition provided. Only then can the important task of application alignment take place as the business decides how to provide that customer experience. Once those three steps are complete, the customer service team can build the strategy, processes and materials to support the experience.
M&A is an excellent opportunity to uplevel support at a time when customers are hypersensitive to change. When handled well, it can deliver against the economies of scale objectives for the deal. The stakes are never higher, so if you'd like a partner to guide you through the process, please reach out to us. Or learn more about our ServiceNow Services.