Passport to Nowhere: Lack of Modernization Creates Mayhem for Citizens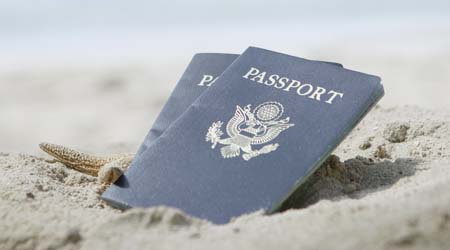 Native Chicagoans think a lot about escaping to warmer climates when winter hits. I decided to act upon the urge over the holidays and head to a warmer, sunny climate. As a CTO, I thought a lot about how improving the digital citizen experience remains a core initiative for federal and state agencies. One thing often overlooked when we talk about improving customer experience is the need to modernize backend systems that process the data citizens are interacting with. With the recent hype around OpenAI's release of ChatCPT, I decided to ask the bot about this and here is what it said.
"Legacy backend systems can impact a government agency's ability to improve user experience in several ways. These systems may be outdated and not be able to integrate with newer technologies, making it difficult to implements new features or improve the overall user experience. They may also be inflexible and not easily customizable, which can limit an agency's ability to respond to changing user needs. Additionally, legacy systems may not have been designed with the user experience in mind, making it difficult to make them user-friendly. This can result in a poor user experience that can be difficult to improve without significant investment in upgrading or replacing the legacy systems."
I recently experienced how frustrating certain processes can be while applying for my teenage twin's new passports. My experience highlights why system modernization with a focus on Customer Experience and a well-thought-out human-centered design process matters in government systems. Improving CX in federal systems became a mandate just over a year ago. I've written about this topic quite a bit this past year. At a recent government technology conference, I spoke about the drastic variance we see when transacting with consumer brands vs. the government.
The journey begins
Our family planned an international trip for Christmas week, so I took my twins to apply for new passports in early October. With a stated timeline of six-to-nine weeks, there was plenty of lead time before our trip.
Just before Thanksgiving, my son's passport arrived as expected. After a few days, I wondered where my daughter's new passport might be. As a technologist, my initial step was to lookup the status of her passport on the agency's online portal. After a few frustrating minutes traversing the web, I finally found the status lookup portal and entered the required information. The portal response stated that her passport was "In Process." The message contained further instructions that if travel were to occur within 14 days, I could call a 1-800 number.
How might we start to correct this? I once again asked ChatGPT. This time about the challenges people face when navigating the agency's online portal. The response was as follows:
• "Difficulty finding the correct website: The United States government operates multiple websites for different services, and it can be difficult for people to find the correct website to check the status of their passport.
• Confusing navigation: The online portal for checking passport status may have confusing navigation, making it difficult for people to find the correct page or information they are looking for."
The AI produced the same argument I often speak about on this matter. Federal government websites need to be easier to locate and navigate. A quick Google search on "how to apply for a new passport" yields multiple paid ads for third-party services that will manage the application process for a fee before a new applicant finds and attempts to navigate the government's application site. This leads to many citizens paying unnecessary fees to third-party providers.
In addition to making it easier to navigate the agency websites and portals, the government needs to make it easier for citizens to find the right website. I found a similar result when trying to renew my Global Entry application. The government must make it easier to navigate the myriad of websites that citizens need to do business with. I was looking for tools that allow me to travel internationally in both examples. Although different government agencies manage these programs, citizens should not have to navigate the internet gauntlet to identify which website they need for services.
My complete loss of confidence in the system
Curious, I decided to check the portal for the status of my son's passport, which we had already received. The portal stated, "In Process." However, I had the passport in hand. It was listed as having the same status as one that was missing. I lost complete confidence in the system.
Adding to the frustration, the email address listed for status updates on both passports was wrong. How could that be? Likely a result of the fact that the passport services' ancient applications are still paper-based. We needed to bring a hard copy of the required forms to the application appointment to apply for the passport. Then someone needed to enter the information provided into the system. Typos happen; the email address on both applications was mistyped.
With our trip getting closer, I had my son's passport and a missing passport for my daughter, and instructions from the webpage stated that I needed to wait an entire month before I could call to check the status.
As a CTO, I look for the root cause and the solution. I began to speculate on the issue, which likely comes down to good intentions of allowing applicants to self-service by enabling an ability to check application status; however, reliance on antiquated backend systems was the glitch. The antiquated systems are simply not capable of providing real-time updates.
While putting up the portal was well-intentioned, it could potentially cause additional frustration on behalf of the applicant. In my case, the portal provided information that I knew to be false. Before putting the status portal online, the agency should have first made updates to the backend processing systems to allow real-time status updates. This is easier said than done. Most of these systems, some of which date back 20 – 30 years, never considered the expectation of self-service or real-time updates. Major overhauls are needed, but budgets are tight across the government.
The ultimate example of waste and frustration
With no further updates and the trip two weeks out, I could finally call the number, or so I thought. Unfortunately, I was a day early with my inquiry. The agent informed me to call back the following day when we would be less than 14 days from the flight. Since the interaction had a pre-scripted response for my calling a day early, I was left wondering how many people per day make the same call and get the same result and how much that costs the American taxpayers.
The following day, I called again. This time, I was within the required 14-day limit. The agent shared the next line of the script. I was informed that the system shows the passport as "In Process." Since I had already applied for a passport, nothing could be done until we were within five days of departure.
Wait, what? How can I trust this status of being in process? My twin son's passport was already delivered. When I inquired what happens within five days, which put us into Christmas week, I learned that if an emergency appointment was available at that time, I could take my daughter out of school, drive downtown to the main Chicago passport office, and obtain a passport. Of course, this is predicated on an available appointment during Christmas week, just before my international trip departure. When you look at the bigger picture of passport processing, ~ 21 million passports are processed each year. Using the experience with my twins as the extreme, potentially 10.5 million citizens could be experiencing this level of frustration.
We must do better.
Luckily, before needing to call back, her passport did arrive. Over a month after my son's passport, even though they applied together, the online portal still indicated "In Process" for both documents.
Since I corrected the email address on the portal, she received an email on Christmas Eve while we were enjoying the sun on our international trip. It stated that her passport had been processed on December 9th and would be delivered shortly.
What could have caused an email stating that something happened on December 9th to be sent on the 24th? I know the answer — outdated mainframe technology. Ancient mainframe technology relies on batch processes. This is the root cause of the frustration. System modernization requires much more than just creating an online portal. In this case, a portal was created to provide better service to citizens, but the net result is increased frustration. The backend system cannot provide accurate or timely information to the portal. The directions are unclear on what to do to receive better information.
President Biden issued an Executive Order on Transforming Federal Customer Experience and Service Delivery to Rebuild Trust in Government more than a year ago. Sadly, I know firsthand one agency that has made little progress.
To learn more about how to modernize your outdated systems and applications. Visit Your Wingman for Modern IT | NTT DATA.