Transform Your Automotive Business With SAP S/4HANA To Make It Market Resilient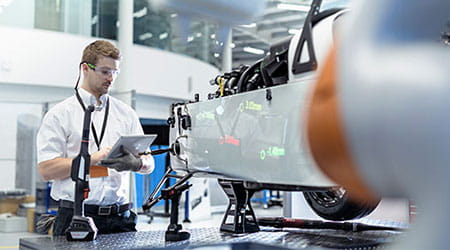 The global automotive industry is now on its recovery at an unprecedented pace. According to a study by Renub Research, with a recovering global automotive market and an estimated CAGR of 3.71% over the next decade, automobiles will reach more than 120 million units by 2030. Digital transformation across the industry is changing the way customers approach auto manufacturers. Likewise auto suppliers will require the agility and standardization across their supply chain to meet such demand. They will need unique industry templates and an ERP transformation approach to achieve the required business resilience.
As the automotive industry evolves, the nature of automotive engineering, planning, production, sales, and servicing is bound to change drastically to meet the changing consumer needs. It is expected that automakers will continue to struggle to meet the demands with continued supply chain disruptions. However, major automotive companies want to move away from traditional just-in-time inventory, partner with semiconductor companies and make their own chips changing the future of auto industry operations. The automotive industry is building business resilience to the rapidly changing market by adopting the following three fundamental principles:
• Manufacturing intelligently: Balancing numerous digital opportunities at each manufacturing facility requires a hands-on approach as companies evaluate potential benefits with the current process and technology landscape. Bridging the gap between business processes and technology, focusing on operational challenges, considering technology platforms, and process optimization lead to tailored manufacturing outcomes.
• Building a robust supply chain: Building a solid supply chain is one of the biggest lessons every industry has learned from the pandemic. Automakers will be required to plan a more extensive supplier base and create a supply chain that would be sustainable during disruptions. Methodologies, such as integrated business planning and centralized procurement, enable businesses to be better prepared and resilient to demand and disruption.
• Optimizing operations: As demand for the workforce increases, it will be of utmost importance for auto manufacturers to optimize their planning and operations. Increased customer demand combined with digitalization sets precedence for customers to change their relationship with automakers. Customization will be in play, driving greater demand and straining the workforce. Adapting centralized planning to meet demand will help businesses sustain and deliver to such significant needs.
While working closely with auto manufacturers to build business resilience, survive disruptions, and reach optimum operations, NTT DATA explores new sources of revenue and builds plug-and-play automotive templates with SAP S/4HANA. Our process transformation best practices cover some core processes, such as demand planning, supply chain planning, financial planning and analysis, lead-to-cash, revenue recognition, outsourcing (sub-contracting), finance, master data management, and supplier portal management.
Automotive businesses can transform their business and build resilience by embracing best practices similar to the following:
Use an automotive industry template — A template should include industry-specific and SAP-recommended best practices. Our template is based on industry and other best practices defined by SAP. With SAP S/4HANA at its core, we have also added industry-specific IP in the form of add-ons such as CAPA and 8D processes, vendor portals, execution cockpits, and pre-defined label templates.
Employ a playback methodology — Only using a template is not enough. NTT DATA also obtains client sign-off during every iteration in the implementation process. While using our automotive template, we play it back to our clients, asking, "Why would this process not work for you?" Based on their feedback, the template is enhanced to suit their business process during the confirm and build phases. It helps us accelerate the overall implementation timeline and ensure that best practices and customizations are minimized.
Integrate business planning — Forecasting and fulfilling demand across different seasons in a year is critical. It helps automotive companies plan their resources to avoid financial losses or customer churn. Integrated Business Planning for Demand is a complete demand planning engine encompassing all short- and long-term planning capabilities with automation and manual usage. It plans demand in conventional ways, such as Time Series, trends, and patterns, and uses modern sensing techniques for short-term demand forecasting.
Centralize procurement — Decentralized procurement often causes various issues, including inconsistent vendor management, lack of standardized procurement data management, loss of economies of scale, etc.; this often leads to customer dissatisfaction and loss of revenue. SAP S/4HANA makes it possible to centralize all the key processes, including guided buying, requisitioning, central creation/management/analysis of purchase orders, and contract management.
Case in point
While every client's ERP landscape has challenges, as system integrators, we always have an opportunity to derive some common attributes across the industry. Recently, we engaged with a global leader in mobility safety (providing safety-critical components, systems, and technology to automotive and non-automotive markets) to lead a global business transformation in 67 sites across 25 countries to SAP S/4HANA 1809. It included 15+ modules to be hosted on MS Azure Cloud, away from 18 legacy ERP systems.
We developed global and local templates for their Pilot plant, secured acceptance, and received client sign-off. Our teams worked across geographies in their home country time zones to support real-time collaboration, develop the solution, conduct testing, support an SAP audit, train the end users, and provide handhold support.
NTT DATA has been recognized as a leader in the 2022 Gartner® Magic Quadrant™ for SAP S/4HANA Application Services, Worldwide. You are welcome to connect with our SAP S/4HANA experts to create a roadmap or pilot for your business so you can create a platform for growth and innovation.