Four Steps to a Digitally Enabled Post-COVID Life Sciences Enterprise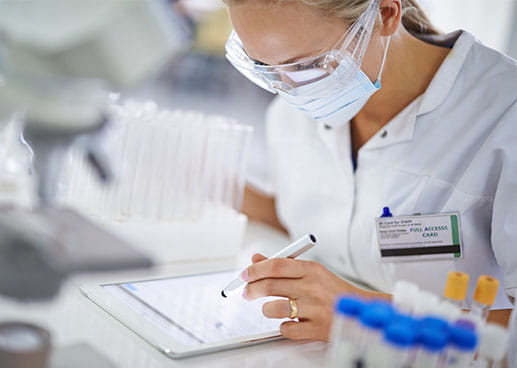 The approach to digital transformation in the life sciences industry has typically meant committing significant investments into a host of digital technologies. However, successful adaptation into a digitally forward life sciences enterprise in today's global business environment now merely requires organizations to reconfigure their existing technology assets into agile and insights-generating collaboration enablers. With the proper planning and implementation, this can be achieved in four steps:
1. Create a federated insights ecosystem across the life sciences enterprise
The route to competitive advantage for the new generation life sciences enterprise is built upon its ability to garner insights across the value network. Life sciences organizations must invest in a comprehensive data ecosystem or a data lake that connects data points — structured and unstructured data assets — across the organization, both within the premises of the functional realm and across its value chain.
The typical data ecosystem build must involve a careful examination of assets that are considered essential to ensure the smooth functioning of the respective business processes and allow for interoperable data exchange across the varied value chain components. The key to growth is establishing a suitable AI engine that can capture data from within the life sciences organization and outside to design outcomes that impact process flows.
Life sciences organizations can take advantage of dedicated AI engines that facilitate insights from a federated ecosystem or implement open-source insights ecosystems. These offer specific benefits across each aspect of the value chain ranging from establishing a collaborative ecosystem for R&D to building a predictive manufacturing and supply chain optimization network.
While building a federated insights ecosystem, life sciences companies must ensure that the platform they deploy is:
cloud-based,
scalable with additional plugins for desired automation needs,
driven by robust security protocols, and
aligned with the regulatory data compliance requirements for the life sciences industry.
2. Consistently scale up the principles of operational excellence through the federated insights environment
As life sciences companies embark on the new digital transformation journey, it is important to derive value from the insights generated through the federated insights ecosystem. The fundamental goals of the life sciences business to optimize the cost of R&D and maximize operational efficiency while reducing time-to-market for therapies have remained constant even in a post-COVID world.
However, organizations must diagnose the most common leakages in operational efficiencies by implementing an insights-driven ecosystem. Studies around operational efficiencies of life sciences businesses demonstrate that complex processes in manufacturing and supply chain ecosystems tend to cause significant revenue leakage. Due to supply chain disruptions and inconsistent digitization of manufacturing processes, companies continue to battle unscheduled downtimes, stockouts, and overstocking, particularly in the wake of the pandemic and recent global events.
While life science enterprises naturally rush into massive investments toward industrial IoT solutions, a more compelling approach would entail a systematic assessment of the process flows across the varied manufacturing environments before any investments. This strategy depends on how the organization views its operational excellence strategy and what metrics they use to drive decisions.
3. Focus on innovation and adopt a platform ecosystem approach to digital transformation
In the wake of resource shortages across life sciences organizations, it is imperative to rediscover the concept of "open innovation" while adopting a platform ecosystem approach to leverage the economies of scope and scale toward driving digital transformation.
Companies must establish three levels of platform engagement across the life sciences ecosystem:
the knowledge platform,
the process platform, and
the resource-sharing platform.
With the growing complexity and costs of bringing new therapies to market, life sciences companies must look at embracing the platform ecosystem model both within and outside the organization. For example, implementing a common platform for pre-competitive information exchange could accelerate drug discovery across collaborator networks focused on pre-competitive agreements.
The shift towards the life sciences platform as a service is expected to become a dominant design given the growing global effects of long COVID and the rise of remote work. To that end, a shift is imperative towards an economy of technology sharing wherein a standard technology management fabric could become central to accelerating bringing therapies to market through the value chain.
4. Engaging with customers through value networks
While life sciences companies have long employed the idea of patient engagement through social platforms, the post-pandemic landscape now requires them to become orchestrators of the healthcare ecosystem instead of being distant transactional players.
This new role can be achieved by embracing the reality of the "digital front door" and exploring models of engagement that may entail the co-creation of therapeutics through:
Engaging with collaboration platforms across specialist physicians
Implementing predictive analytics approaches
Tapping into the enterprise federated insights ecosystem to link R&D programs to therapeutic needs across a diverse range of comorbidities and rare disorders
Life sciences companies also need to reinterpret their metrics around return on marketing investment and salesforce effectiveness towards a holistic measure of therapeutic efficacy and last-mile connectivity. In this paradigm, the focus shifts from short-term profitability models to organizing marketing programs aimed at being predictive and informative by identifying innovation opportunities.
The premise of identifying potential market needs must shift from a reactive condition to a proactive approach where predictive and prescriptive marketing analytics take center stage. This will help life sciences companies engage across the healthcare value network of providers, payers, and patients to help the ecosystem optimize treatment options against disease risk and ensure the availability of the right therapy to the right patient at the right time.