At the Intersection of Data, Analytics, and the Cloud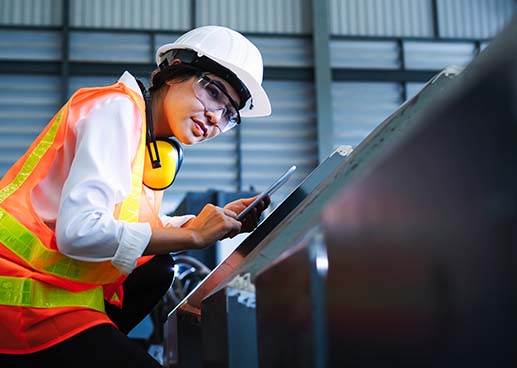 The long-term effects of Industry 4.0 on manufacturing are coming into focus. Cloud-enabled digital business transformation is driving process improvement in business operations through the growing volumes of data and increasingly sophisticated analytics available to manufacturers. To begin quantifying the reasons for and results of these shifts, NTT DATA and Oxford economics surveyed 500+ business and IT executives. We'll share some of the key insights here.
The rise of the data-driven manufacturer
The Industrial Internet of Things is driving massive increases in manufacturing data. The challenge facing manufacturing companies is how to combine industry process expertise with analytical tools, turning raw data into actionable intelligence. For example, manufacturers can now have real-time visibility across all operations with a prescriptive focus with the right analytics and infrastructure. This entails linking horizontal business operations from planning, sourcing, and manufacturing to aftermarket services, thereby improving operations and developing new business models.
Moreover, data and analytics improve virtually all areas of a manufacturing business. The NTT DATA / Oxford survey shows that nearly two-thirds of manufacturers use data and analytics predominantly in customer-centric areas such as customer and sales operations (48%) and after-sales services (45%). To that end, 40% of manufacturers prioritize the collection and analysis of customer data. Similarly, manufacturers see data as instrumental in shaping the digital workplace. About half of the manufacturers surveyed reported that a cornerstone of their strategy for improvement in the near term was to manage employees better — using data, sensors, and digital workplace services. But across all data-driven insights, no matter where manufacturers choose to prioritize them, the common denominator is that they rely fundamentally on the existence of suitable cloud infrastructure.
The cloud's role in digital business transformation
Certainly, manufacturers see cloud as a primary driver of I4.0. Cloud solutions are becoming the core enablers of manufacturers' daily workforce operations (64%), customer and sales operations (50%), and after-sales services (48%).
The transformative potential that cloud represents has both business leaders and IT leaders focusing on how migrating to the cloud can create a platform that improves the integration of processes and workflows across the business. Cloud platforms allow manufacturers to integrate—often at shockingly low cost—advanced capabilities into their environment.
To return briefly to data, cloud solutions allow businesses to move from static data to near-real-time or, in some cases, real-time data analytics. This enables manufacturers to take proactive actions based on current insights rather than using a weekly dashboard of dated business data. This is an example of how cloud can accelerate business value.
More broadly, cloud initiatives empower manufacturers to do more than simply improve current operations and current business processes. Cloud solutions offer the ability to ingest, process, and generate more insights from data than would be feasible with traditional, on-prem solutions, both in terms of data volume and in terms of data velocity. Cloud enables manufacturers to change the way they look at business. It provides opportunities for manufacturers to get closer to the end customer, gaining deeper customer insights and increasing customer loyalty towards the brand.
For a deeper dive, you can view the NTT DATA / Oxford report here. If any of this has sparked your thinking or given rise to questions, we would be glad to hear from you.