Connecting Scientists with Their Work via NoMachine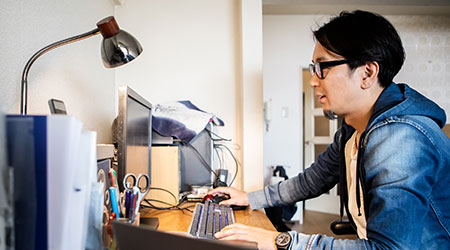 According to the
Pew Research Center
, the number of employed adults who worked from home last year jumped from 20 to 71 percent. Remarkably, most work-from-home employees (54%) say they'd like to continue their new regiment post-pandemic. Despite this enthusiasm for the home office, the transition has been easier for some than others. According to Pew, 13% of workers who transitioned to a home office said they don't have the technology or equipment to effectively do their job from home. This was the case for one of our clients, whose team of researchers had been disconnected from the powerful technology they rely on day and day out.
This company's team of scientists traditionally came into the office to work with a set of very specialized tools, AI models and rich data sets. Lifting and shifting the team's workspace into the home office environment was simply not feasible, nor was continuing to work from the office. It was quickly determined by the NTT DATA and client team that a remote workstation solution was the best approach to keep the team connected with its tools and, as a result, maintain the team's productivity.
NoMachine
To help the client, we used NoMachine to create Linux based high performance workstations that can be reused for many different purposes including running he team's GPU workloads. Specifically, we used NoMachine Enterprise Desktop; the technology allows users to access resources deployed in the data center or cloud from any device with browser access.
We chose NoMachine because of its hassle-free ability to remotely control any computer. It offers seamless access for sysadmins from anywhere and features unparalleled performance across operating systems. In addition, NoMachine offers a secure remote desktop for work-from-home employees and uses a variant of SSH protocol, so it's completely encrypted end-to-end and all data is encrypted in transit. These security considerations were key as the data and systems the team uses contain proprietary business data.
AI, GPUs and AWS

Our client's scientific team relies on GPU workloads to run advanced AI models. And the types of machines that they were using at the office were Puget Workstations that pull about 20 AMPs of power, which most houses aren't even wired to handle. Requiring robust amounts of compute (and electric) power, it was simply not feasible for the team to run these workloads from a home PC. Yet, as pioneering the cutting-edge research behind our client's next generation products, the team needed access to its GPU workloads to continue its development efforts.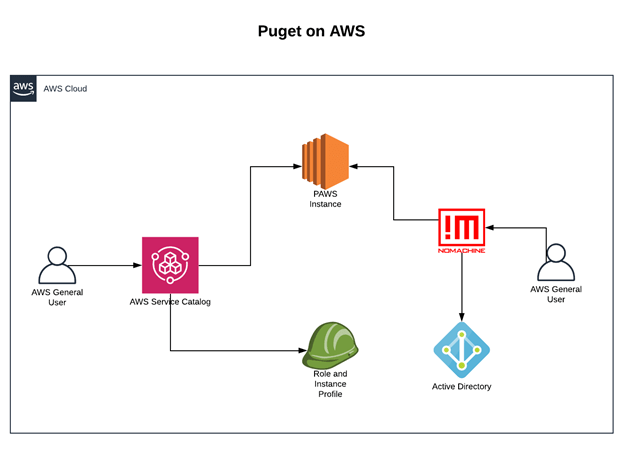 We used Amazon Web Services (AWS) G4dn instance types to give the data scientists the same GPU/CPU power – all without having to run additional power to their house. AWS G4dn instances are designed for high-bandwidth networking and offer 6 GiB of GDDR6 memory which make them an excellent fit for the team's machine learning applications via a remote cloud workstation.

To visualize their ML data, data scientists need to build X-view from the data source. This is a very CPU intensive task and needs to be built occasionally as changes are made to the data source. As the Puget workstations are more GPU optimized rather than CPU, building X-view is time intensive must be done by each user.

We worked around this drawback by developing a Jenkins pipeline that builds X-view from source and uploads it into AWS Simple Storage Service (Amazon S3) object storage. Now Puget workstation users can pull the needed build directly from S3 when required.
Login and go!

A day in the life now begins with a scientist turning on their device in their own home office. Using a desktop login and NoMachine client, they can now launch directly into their needed systems, remaining productive despite their distance from the office. NoMachine allows the research team to continue their work with the same level of flexibility, speed and responsiveness. The remote workstation solution coupled with AWS instances and S3 has allowed our client to retain its competitive market position while maintaining employee satisfaction.

According to Pew Research, "Workers who are working from home all or most of the time are also more likely than other workers to say that … they are more satisfied with their job than before the coronavirus outbreak." Empowered with the right tools and technology to do their best work from, this is certainly the case for our client's research team.
Interested in more examples of cloud in action? Subscribe to the NTT DATA blog below.