A Big Bank's Digital Transformation with Culture Coach Chris Doll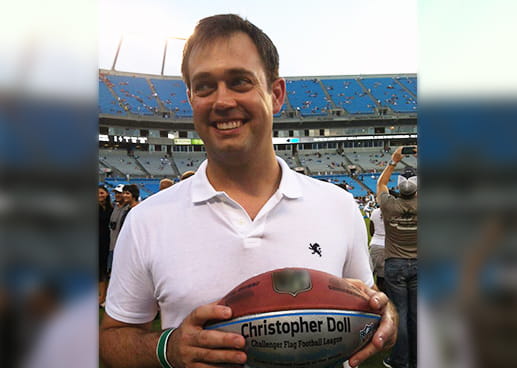 In this Game Changer interview, Chris Doll, NTT DATA Financial Services director, talks about his passion for exploring different cultures, coaching kids of all abilities, and modernizing a big bank's lending platform.
Q: Well before becoming a business consultant, you spent time studying and working in Asia. Why was that a particular interest for you?
A: My father worked for an import company that had operations in Hong Kong and Mainland China. He traveled a lot, and I became interested in how global supply chains work. So, when an opportunity arose to study abroad during my MBA program, I jumped at the chance. I completed a semester abroad in Hong Kong and then worked in Global Sourcing at a textile company that allowed me to travel to Asia regularly. Hong Kong was an incredible mix of Eastern and Western cultures. My favorite parts of the experience were jumping on the train and exploring new areas and neighborhoods because everything was different from my background.
Q: Your NTT DATA colleagues call you a "Culture Driver." What does that mean to you?
A: I like being in situations where everything is unfamiliar, and yet you're challenged to find a way to make connections. That's a skill I've carried into my work life, whether it's working alongside clients to problem solve or developing our people inside NTT DATA and giving them a chance to stretch their wings.
I've had great coaches my whole life — as a kid playing sports and in my career — people who have challenged me to do things I didn't think I could do. I try to be that kind of person for my team at NTT DATA.
Q: I'm glad you brought up coaching. I know you volunteered as a coach to youth with developmental disabilities for more than ten years. Tell me about that experience.
A: I coached adaptive baseball and flag football in the county where I live; the Carolina Panthers sponsor the Challenger Flag Football League. The programs provide children with developmental disabilities the opportunity to participate in all kinds of sports and activities. The team is an incredible group of kids who are there to play football and have fun.

One thing I tried to convey as their coach is that we succeed as a team, not as individuals. Some kids have more mobility than others. If your teammate is in a wheelchair, then you need to block for them. Being a good coach starts with meeting people where they are, which I try to take into just about everything I do — personally or professionally.
Q: How has your appreciation for different cultures and your love of coaching apply to your professional life?
A: To be a successful business consultant, you have to be sensitive to the client's culture. Our solutions will only be successful if we bring people along the journey. I approach my client's projects as a player-coach. I'd never assume I know more about their environments or their jobs than they do. I go in with curiosity and respect for their approach. It's similar to baseball — there are a million stances, a million ways to hit the ball — and I try to get people to use what they have naturally to get the best outcomes.
With every transformation project, there is always compromise. You need to have empathy for the people who might not like the decision to shut off the old system, so you need to bring them along in the process and be transparent about why the decisions were made.
Q: Can you share an example where you helped coach a client through a technology transformation?
A: Sure. We worked with a top bank that, as a result of a merger, had two completely separate organizations under the same umbrella doing similar work in radically different ways. They were using multiple platforms to manage a segment of commercial loans, and none of those platforms were integrated. It was incredibly costly and inefficient and was leading to customer and reporting problems. They needed a strategic plan to move forward with one system.
We have a Surveyor Methodology that helps organizations make decisions on the big strategic questions. Still, the thing that makes a transformation of this kind successful is helping our clients be transparent about incremental decisions. Even if people disagree, they understand the steps that got us to the decision.
We worked alongside the client to understand what is most important to them and probed to find out what changes would move the needle for the organization. After fully understanding their business objectives, we put together an implementation plan to modernize their systems and enable reporting and digital enhancements to achieve those objectives.
As a result of our consulting work, the bank is now in the process of decommissioning six different commercial lending and credit-spreading platforms. One group was able to modernize outdated mainframe technology to enable real-time transactions and digital connectivity. The company will gain more consistency with processes and outcomes. Decision-making and reporting will be faster because you can get the data and information you need in real-time instead of waiting for a reporting team to retrieve data from a warehouse.
Our Surveyor Assessments helped focus the bank's decisions on the key drivers for their business objectives in an open, transparent process that allowed them to move forward with their plans confidently. And in the end, they'll have modernized, efficient systems that will provide better employee and customer experience.
Q: What's been the most significant change for you now that you are working remotely?
A: I was very big on walking around the office and talking to people face-to-face before the pandemic — clients and NTT DATA folks. You get a lot out of walks to the elevator. Now I have to be more deliberate about having those conversations. I've had to adjust to a new culture, a new way of working with and relating to my teams.
On the plus side, I get to spend more time with my family. For my teammates, I've seen the benefits of having more autonomy to do things their way. I might be surprised by their approach, but as I said, there are a million ways to swing at a ball.
Get to know NTT DATA
Learn more about NTT DATA's solutions for Banking and Financial Services.
Meet our Game Changers here.