Collaborate and Listen for Remote Agile Team Success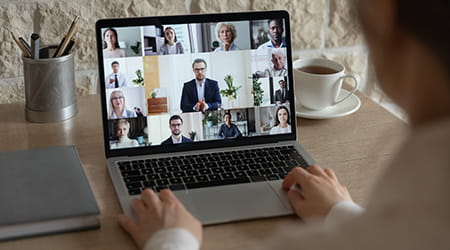 As current events force non-essential employees to work remotely, Agile teams face an inevitable transition. It's important to get this transition right in order to ensure team productivity and business continuity. Even more so as remote work is mobilizing to become the new normal with companies like Square and Twitter announcing that employees will have the option to work from home on a permanent basis. In this state of affairs, an Agile and remote corporate DNA offers a distinct advantage. Yet, building such a culture in the middle of a pandemic may seem a little like building an aircraft while flying it. Fortunately, the building blocks are all things that with a little practice can quickly become embedded in your remote Agile team DNA. Fully remote Agile teams are in our DNA.
Consistency Builds Reliability, Repeatability for an Agile Enterprise
A consistent approach across Agile teams goes a long way. For example, for our Agile teams, that consistency starts even before we work with a customer via our Agile Delivery Training Modules. We continue building on that consistency with Team Agreements (Working Agreement, Definition of Ready, Definition of Done) and scheduled regular Events (Stand Ups, Refinement, Planning, Retrospectives) so that all can attend. As Agile teams engage in a consistent schedule, reliability will grow. While we don't advocate that everyone on the team must work the exact same hours, having a window of time each day where everyone gathers is instrumental and is something we promote as part of our Team's Working Agreement.

Consistency also applies to deliverables. As the team works on User Stories and Epics together, consistency keeps projects from fracturing and grows predictability of outcomes. In addition, we strongly empower Teams to review their work earlier with the customer. We have found this approach is especially critical to our success with customers who are in a transformation journey from a Waterfall Methodology to one of the Agile Frameworks that we support. At the beginning of each customer engagement, we focus on training that ensures everyone is on the same page with regard to expectations, deliverables, and more. In this way, we are able to scale consistency and achieve repeatability.
Communicate, Communicate, Communicate
There is no such thing as too much communication in a remote environment. While the Daily Stand Up is a good foundation, consider collaboration tools to help establish a culture of communication. These mechanisms can be powerful, especially for asynchronous communication across time zones and work shifts.

While working closely from a distance may sound antithetical, with the help of several tools, teams can communicate and collaborate effectively. Our Agile teams like to use
Slack as it moves communication out of email (which can be siloed) into a direct communications vehicle that facilitates teamwork through channels for direct messaging, file sharing, and more.
Trello for its ability to provide real-time input and feedback. Unlike traditional Waterfall Gantt charts, our Trello use empowers the Team to make changes throughout the day, providing detailed transparency into the team's activities.
BVCs. Big Visible Charts like Information Radiators are important for transparency, sharing progress, and provoking questions that ensure the team continues to drive value. If you are used to working in a physical space, BVCs might traditionally be placed in a high traffic area. In a virtual environment, those high traffic areas are your collaboration tools.
Find New Ways to Build Rapport
As the infamous water cooler doesn't exist in a remote environment, teams need to get creative and find alternate ways to create rapport. Our remote teams have created different Slack channels for shared topics of discussion. For example, we have Slack channels for Photography, Foodies, Book Lovers, Parenting, and more. We also use HeyTaco! to share appreciation and feedback that ensures people are recognized for their contributions. The upside to these approaches is that they are simultaneously uplifting and people can contribute regardless of their time zone.

In addition, we place a heavier focus on facilitation. In-person, it's much easier to pick up non-verbal cues. Whether it's a head-nod that indicates someone is actively listening or simply seeing that a person looks under the weather, non-verbals are more difficult to suss out online. As a result, like a blind man who has honed his other senses, we recommend honing your facilitation skills to listen for voice inflections and other cues that help you stay engaged with team members — and vice versa.
Empower the Agile Team
Create a supportive culture of accountability that empowers the team and builds trust in the work relationship. Accountability simultaneously empowers people to do the right thing while holding them responsible for achieving defined goals.

At the beginning of each sprint, the Team forecasts the work to be completed in Sprint Planning. We make working agreements completely visible to our customers to ensure complete transparency. Within this framework, teams easily recognize everyone's contribution, holding each other accountable while individuals are motivated to deliver value.

More than rapport, communication, collaboration, and empowerment can foster a spirit of volunteerism with teammates stepping up to help with whatever needs to be done to deliver value to our customers. Encouraging psychological safety is an important component when it comes to building trust. Every team member should be trusted and empowered to contribute by focusing on solving problems and adding value. Indeed, according to the 2019 Accelerate State of DevOps report, produced by DevOps Research & Assessment (DORA), "A culture of psychological safety contributes to SDO performance, organizational performance, and productivity, showing that growing and fostering a healthy culture reaps benefits for organizations and individuals."

In this model, peer mentorship is really strong and a testament to the level of trust collaborative teams are able to build. In addition, the time and energy teammates save in daily commutes, (especially in high-traffic urban areas), as well as the knowledge that they are able to take care of any personal urgent matter should it occur, serves to create a virtuous cycle of greater trust, that feeds communication, consistency, accountability, and more opportunities to volunteer for team activities. Indeed, empowering the team has a positive impact on continuous improvement in business performance.
Focus On – And Deliver – Value
Agile as a framework helps teams deliver value. Our Agilists like to say that it helps customers get what they need, not what they thought they wanted. The reason: Agile is unlike waterfall development where product managers are encouraged to add everything they might possibly want to the feature list for fear they won't have a chance to impact the product for another 6 or 12 months. Using frequent feedback loops, Agile teams focus on delivering something that really meets the customer's needs. In the process, Agile helps move people from a mindset of what they want to what they need.

As a remote organization since our founding seven years ago, we've learned that bias toward action keeps progress moving forward in a meaningful and measurable way. Even when a customer is not available to meet, we continue to progress, communicating for transparency and visibility. We find that teams are more productive and efficient working within remote Agile teams as there is explicit permission to focus on work product and automation to remove waste.

So, what are you waiting for? Stop starting and start finishing today with these tips for successful Agile remote work.