Grow Flexibility, Agility with Amazon Connect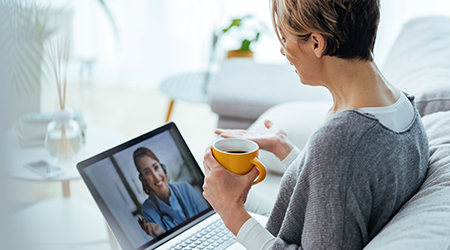 Many businesses are discovering the benefits of employees who are able to work from home. Yet, not all employees are able to work from a home office as easily as others. Traditionally, organizations find it more difficult to facilitate work-at-home environments for call center employees as they have been tied to legacy on-premises telecommunications infrastructure and applications. Amazon Connect seeks to upend this paradigm, giving businesses the flexibility to operate virtual call centers, with agents and managers who are able to work anywhere at any time.
What is Amazon Connect?
AWS bills Amazon Connect as, "an easy to use omnichannel cloud contact center that … provides a seamless experience across voice and chat for your customers and agents." Omni-channel here means that AWS provides a single user interface for voice, chat, contact routing, queuing, analytics, and management.

While Amazon Connect offers many of the features you'd expect in other call center solutions, benefits specific to Connect include:
A pay-for-what-you-use pricing model that often results in lower monthly bills;
Ability to easily scale up and down based on demand, without needing to wait for telco and equipment vendors. This ability to scale eliminates the costly traditional.
contact center problem of over and under-provisioning.
Intuitive tools that make it easy to set-up and manage;
Using Amazon Lex, organizations can create natural language chatbot contact flows; (Lex is the AWS AI service behind Alexa that recognizes natural language speech.)
Integrated machine learning — via Contact Lens — that helps managers to understand the sentiment, trends, and more in customer conversations to create continuous improvement among agents, growing customer satisfaction and agent productivity;
The ability to scale seamlessly to support millions of customers.
Infrastructure Considerations
While the basic functionality is available with AWS free tier, organizations looking to migrate to Amazon Connect will undoubtedly move beyond the free tier. In doing so they should consider several infrastructure components to maximize its features and benefits.

Identity and Access Management – AWS Directory Services can be used to manage identity and access and AWS SSO can be connected to it to provide a single sign-on service.

Security Requirements – AWS uses a shared responsibility model for security in which they are responsible for security from the host OS and virtualization layer down and users are responsible for everything from the guest OS up including the firewall. We recommend that all enterprises start with a secure cloud foundation where security controls are proactively built-in to ensure consistency and repeatability.

Key Management – While Amazon Connect can encrypt data from the call center, like recordings, it's important to have an infrastructure that can manage the associated encryption keys. If the organization follows solid AWS IAM practices regarding permissions, this makes it easy to provide the necessary separation of AWS KMS keys for encrypted parameters.

Monitoring – The ability to watch system resources, set metrics-based rules with alarms when they are exceeded, and detect unexpected behavior is critical to ensuring call center uptime — and customer satisfaction. We prefer Amazon CloudWatch for this function as it allows enterprises to monitor their systems for ongoing operational efficiency, security, and compliance with internal policies.

Cloud-Native Services – A last consideration is the ability to invoke Lambda functions to call existing services or connect to other AWS services. For example, an enterprise may want to store its call recordings in S3 buckets or encrypt customer feedback.
Case in Point
We recently had the opportunity to work with a financial services organization that was looking to move its call center to Amazon Connect. Before doing so, however, it wanted to ensure that it had a strong cloud foundation. With our Build Cloud Foundation service, we were able to architect for the firm a cloud foundation with guardrails to enforce its security controls, and AWS's best practices with CIS hardened environments.

In addition, we helped the company integrate its Active Directory for identity and access management and single sign-on for agents. Last, we established secret rotation with AWS secrets manager so that the customer's applications can manage secrets securely. With a hardened, secure environment in place, the financial firm was ready to adopt Amazon Connect and readily roll it out to its hundreds of call center agents.

If you are ready to achieve call center scale with greater flexibility and agility, reach out today.