Manufacturers Get Closer to the Customer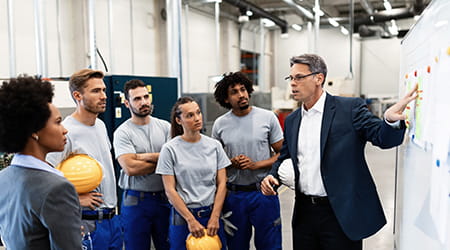 Not too long ago, retailers owned the customer relationship. Customers would visit the store, interact with store staff and leave with recommended goods. Manufacturers set up distribution centers to get their products to retail to be sold to the customer and vied heavily for shelf space. Indeed, it was a major coup for a new product to be picked up by a retailer like Wal-Mart as it could mean the difference between remaining small or becoming a household brand.

In this era, the retailer marketed to the customer and manufacturers worked closely with them to promote their products. Marketing contracts would include end cap placements, inclusion in weekly print circulars, and more. While how customers shop and how they are marketed to has evolved with the advent of eCommerce, the paradigm largely remained the same with retailers retaining ownership of the customer relationship. After all, they've invested decades building customer trust and loyalty.

This is not to say that enterprising manufacturers didn't strike up initiatives to get closer to customers. Manufacturers built websites to market to consumers, where they offered coupons as a way to draw customers to them. Kellogg's website is a great example. It allows consumers to join its Family Rewards program, earning points for product purchases, which helps the company learn more about consumer behaviors, and begin developing a one-to-one customer relationship.
Hitting a Curveball
The Coronavirus is a curveball few saw coming, creating a disruption few were prepared for. As retailers addressed the crisis with curbside pickup, home delivery, virtual consultants, and more, some manufacturers quickly saw the disruption as an opportunity to grow closer to the customer. PepsiCo is a good example of this realization in action. It recently launched Snacks.com and Pantryshop.com, two eCommerce sites that sell direct-to-consumer, bypassing retail altogether. Direct-to-consumer sales create an even tighter feedback loop between the consumer and manufacturer, helping to influence new product innovations, ensure customer satisfaction and build long-term loyalty.
According to
media reports
, the two sites went from concept to production in a mere month's time. This level of enterprise agility is driven by insight aided with technology. OODA loop inspired insights like those exhibited by PepsiCo allow organizations to quickly and intelligently react to rapidly shifting market situations.
John Boyd developed the OODA loop (observe-orient-decide-act) in the Korean War. As a military strategist and colonel in the Air Force, he applied the OODA loop to react as quickly as possible to fast-changing circumstances on the battlefield. The OODA loop provides a useful business model to successfully navigate change.
While Pepsi hasn't publicly stated which technologies it used to quickly develop its eCommerce sites, technologies like low code and no code are increasingly being used to quickly build new products and services.

The future of low code solutions includes the addition of artificial intelligence and machine learning which will allow manufacturers to take their understanding of the customer even further. Fueled with these insights, manufacturers can derive even greater knowledge of consumer behavior, further innovating solutions that speak directly to end-customers, thereby further strengthening the customer relationship.
IoT Grows the Customer Relationship
IoT is emerging as a leading technology for a range of smart products. Integrated into everything from refrigerators to fire alarms and from fitness trackers to doorbells, IoT constantly gathers information that manufacturers can use to build tighter customer relationships. Take John Deere for example. It has IoT-enabled its tractors to help customers increase the productivity of their fields. IoT sensors can monitor the number of seeds planted, adjust the spacing, and tell farmers the amount of pressure put on seeds as they are planted. Moreover, the data is all sent to the cloud where customers can access it for ongoing analytics from field preparation to harvest. This level of information provides farmers with a critical pool of data that they'll constantly engage with, further building trust and loyalty between John Deere and its customers.

So, what's next for innovative manufacturers who are able to effectively use the OODA loop to navigate sea changes? Given today's challenges, we predict robotics and IoT will play a leading role within the distribution center to more intelligently facilitate supply chain management. For example, our parent organization, NTT DATA, is working with a supplier of warehouse equipment to automate materials handling. While the product line is still under development, its cloud-based solution will automate activities to make the warehouse more efficient and effective.
ML/AI Close the Customer Gap
ML/AI will only add to the depth of manufacturers' knowledge further growing customer relationships. For example, the Toyota Research Institute – Advanced Development, uses these technologies to simulate automated driving vehicles. Just as you'd imagine, the simulation uses real-world vehicle data to replicate visuals, audio, and physical information that allows researchers to create simulations for test and development in new situations. Without the cost of an actual vehicle, these tests allow researchers to use 3-D modeling to process and reproduce scenarios for automated driving and advanced driver assistance system tests.
The ML-powered system verifies results, feeds any issues back to development, and automatically executes a series of processes at high speed in the cloud each time a software change is made. Learnings from the simulator create a virtuous loop of constant improvement, including fine details that will be needed for the creation of a system at mass production. In this way, TRI-AD is able to fine-tune an autonomous vehicle that will meet — and beat — customer expectations, helping it realize its mission to make autonomous driving safer for its customers, enhancing the customer experience.
In Chinese, the word crisis is composed of two characters, one for danger and the other for opportunity. And, manufacturers are seizing the opportunity — from CPG where manufacturers race retailers to digitize the business and grow their share of customer, to product lines that offer more sophisticated digital transformation opportunities. Manufacturers have more tools than ever to build and sustain direct customer relationships.