Understanding the IoT Continuum(s) in Manufacturing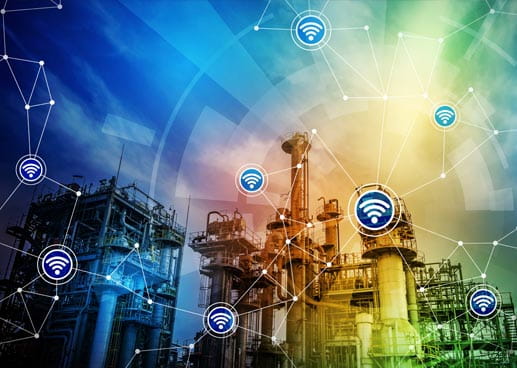 IoT and the transformation imperative
Manufacturing is huge. With the scope and pace of digital disruption expanding and accelerating exponentially, the stakes are enormous. According to the Manufacturing Institute, the manufacturing industry in North America alone is valued at more than $2.18 trillion.
A recent study by Fujitsu paints an alarming picture for the future of manufacturing: 90% of manufacturing professionals report the sector is already impacted by digital disruption; 95% admit their business needs to evolve to thrive; 90% believe the industry will change by 2021, and 52% say their business will not exist in its current form in five years' time.
Internet of things (IoT) is the single most transformational force in manufacturing today. Sure, manufacturers have been driving improvements through data acquisition around sensors, systems, and people for decades – under continuous improvement initiatives such as Lean Six Sigma or Kaizen Events. But today's digital disruption, dynamic market conditions, and fierce global competition have made IoT-based transformation a clear-cut, unavoidable imperative for manufacturers worldwide.
Why such woeful IoT failure rates?
No one ever said IoT was easy. The myriad technologies involved (sensors, networks, servers, software, etc.), near-limitless applications (existing and potential) and countless integration challenges (shop floor to enterprise core) prevent rapid decision-making and fast/simple IoT implementations. Add ever-present security concerns and potentially high costs of misfires, and analysis paralysis on the IoT front is understandable
Regrettably, this mind-numbing complexity also contributes to a high failure rate for IoT projects. A recent survey conducted by Cisco found that nearly 75% of IoT projects aren't successful.
Given the many constituent parts of an IoT deployment, connecting devices, processes, and people in a manner that yields meaningful and sustainable transformation requires expertise that is both broad and deep. Many, if not most, businesses lack the internal resources needed to bring an IoT implementation to fruition.
Understanding the IoT continuum(s)
Complexity is nothing new in enterprise technology. However, the constant changes occurring simultaneously across the entire IoT landscape increase complexity by orders of magnitude. To help our manufacturing clients see more clearly (and strategically) when embarking on or enhancing their organization's IoT plan, we find it helpful to delineate and detail where things stand along several key IoT continuums:
Continuum of technological advancements
The first and most formidable continuum that all manufacturers must grapple with is the constant technological evolution occurring, individually and collectively, across all the major components of IoT. Mapping out what's possible now with sensors, networks, gateways, edge computing, robotics, platforms, applications, AR/VR, AI, and analytics is a formidable challenge. It is also essential to have a deep and holistic understanding of this ever-evolving landscape continuum when determining where to begin your IoT strategy – or what to take on next.
Continuum of IoT benefits (cost savings to revenue generation)
In tandem with efficiency and productivity gains, cost savings top the list of benefits manufacturers look for from IoT. While gains on these fronts are nothing to scoff at, we advise our manufacturing clients to look (maybe even push) further down the IoT benefits continuum. The key here is to consider short-term gains and long-term success.
The ubiquity of Wi-Fi and the proliferation of sensors embedded in manufactured products opens the door for new business models and revenue streams. Manufacturers today are rapidly transitioning from producers of stand-alone products to providers of value-add services, such as proactive maintenance or sometimes rental services. IoT also enables manufacturers to transition from building single products in mass quantities to the faster, more responsive, customer-driven, mass customization model taking hold today.
Continuum of IoT capabilities
IoT use cases in manufacturing abound, and with continual technological advancements, future IoT capabilities are virtually limitless. When looking only at internal operations, the IoT capabilities continuum begins with asset/process/people visibility and progresses through asset/process/people optimization to full asset/process automation. (Digital twinning and robotic process automation (RPA) would serve as the relevant technical reference points in this scenario of the IoT capabilities continuum.) But as discussed above, the one-and-done, product-based transaction model is rapidly giving way to an extended, service-based relationship model, making the IoT capabilities continuum a powerful circle replete with near-infinite value points extending way beyond the factory walls.
Continuum of (your) IoT maturity
IoT is nothing new in manufacturing, and most manufacturers use IoT to some extent. Asset monitoring and production monitoring are perhaps the most common IoT apps in use among manufacturers today. This makes good sense given the preponderance of high-value, specialized equipment on the shop floor and the very real gains (and losses averted) from keeping production processes running optimally.
With the digital tsunami wreaking havoc across all manufacturing sectors, it is imperative to assess where your organization stands on the IoT maturity continuum and, equally important, where it needs to be not only to stave off disruption but also to position yourself for sustainable success.
On this score, creating a digital twin of your plant floor (sometimes including your supply chain and relevant IT systems) is invaluable. You can't manage what you can't measure. And you can't measure what you can't see. Digital twins provide the visibility essential for embarking on or enhancing your IoT strategy, serving both as a map from which to start and an interactive, visual interface for continual, real-time monitoring as you move forward.
Oracle IoT Cloud and NTT DATA for IoT excellence in manufacturing
Oracle IoT Cloud Service delivered by NTT DATA helps manufacturers rapidly and cost-effectively assimilate IoT into their digital strategy. With hundreds of IoT deployments under our belt, including some of the world's most extensive and complex, NTT DATA is proud to be the Oracle partner of choice for a growing number of organizations looking to move forward with their IoT strategy.