Aspiration to Reality: This Game Changer Began His Journey When He Was 12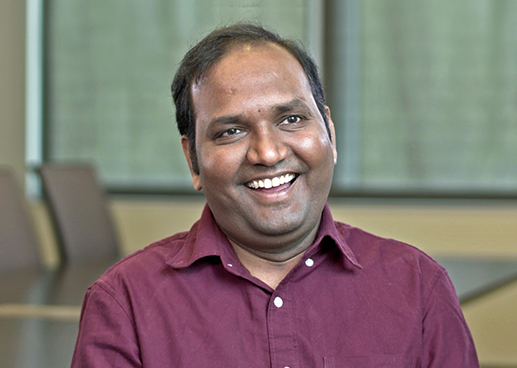 In the Broadway musical, Alexander Hamilton sings, "I'm not throwing away my shot!" He's like his country: "young, scrappy and hungry." There's a lot of that young Alexander attitude in NTT DATA's Game Changer Malleswara Gotluru, who saw a future beyond the family grocery store business. Now tens of thousands of NTT DATA clients are benefitting from the life detour a 12-year-old boy in southern India chose to follow.
Q: Something happened as a young boy that changed your life. What was that?
A: Growing up in a big family in a small village in southern India, I always saw my future in the family-run grocery store that occupied the first floor of our two-story home. My father worked there, and so did my uncles; it was only natural for me to fold into the family business. When I was 12 years old, I attended a wedding in my village. I was talking with the brother of the bride, and he told me of his life beyond our village. It was like a dream, a new dream that I knew I had to chase after and make my reality.
Q: What did this man tell you? What was the dream he painted for you?
A: He was one of the few people who sought a life beyond our village. He had completed higher education and was planning to go to the United States of America. He was very well respected in our village and enticed me with his stories of the world. He encouraged me to enroll in a computer science course after my tenth grade. He told me of a life where I could learn and expand my life beyond just running the family business. That made me think about the kind of life I wanted for myself.
Q: Fast forward, and you've graduated from the tenth grade. For many of your peers, this would be the last stop. Not many go on to higher education with big dreams like you. They — settle. You didn't want to settle, did you?
A: Not at all. So I graduated from high school and went on to enroll and graduate from a computer science course. Then, it was time to apply for a job.
Q: They weren't just handing out jobs left and right, were they? There was, shall we say, competition?
A: I went to apply for a job (with one of India's best-known consultancy companies), and there was a written exam. Approximately 30,000 people were competing for only 1,000 jobs. There were people queued up from the front gate all the way to the examination hall. We were broken out into batches, and each batch was about 10,000 people at a time. Think about that! Before the written exam, I had a lot of doubt and was certain I wouldn't get a job as the competition was fierce and many were better than me.
Q: But that didn't turn you away. What made you think you had a shot? Why did you think you could do it? What gave you confidence?
A: I started gaining some level of confidence when I was writing the exam. I saw the aptitude test and realized that I was well prepared. The mathematical part of the test felt especially easy because of my preparation. I felt confident that I would get the interview call and, eventually, the job.
Q: Did you get the interview?
A: I most certainly did! The original 30,000 applicants down to 1,000, and thanks to my good score in the aptitude test, I was one of the 1,000. I further cleared the next rounds of interviews to get the job that would be the stepping stone for the life I have created for myself and my family.
Q: Landing that job over so much competition set your career into motion. Would you say it eventually led you to work for NTT DATA?
A: I worked with that company in India for three years and eventually got the opportunity to come to the United States. An opportunity opened at NTT DATA serving a large healthcare client in New Jersey and given my prior experience working with a big networking company while in India, I proved to be a good fit.
Q: One of your managers has called you NTT DATA's "Swiss Army Knife." He said you could handle just about every challenge that comes your way. Is your favorite part of your job solving problems for your clients?
A: Of course, there is no doubt! Solving complex issues for my clients is something that inspires a lot of positive energy in me. I take great pride in offering solutions that enable over 4,000 business users to go about their transactions seamlessly.
My favorite part of my job is that every day is a new day that will inspire me to find new solutions for the client support issues our team faces. We are committed to solving any critical issues that will help our clients' business growth. Also, in my day-to-day life at NTT DATA, I take pride in helping my colleagues solve problems that they may be facing.
I love this job because it allows me to learn something new as I strive to solve every challenge that comes my way. It helps me sharpen my analytical skills while developing my overall personality so I can furthermore aspire to soar in my career and my life.
Watch Malleshwara's story here.
Get to know NTT DATA
Learn more about NTT DATA's solutions for Healthcare and Life Sciences.
Meet our Game Changers here.