Bryan Sprayberry Is on a Mission to Help a Top 4 U.S. Bank Automate Regulatory Reporting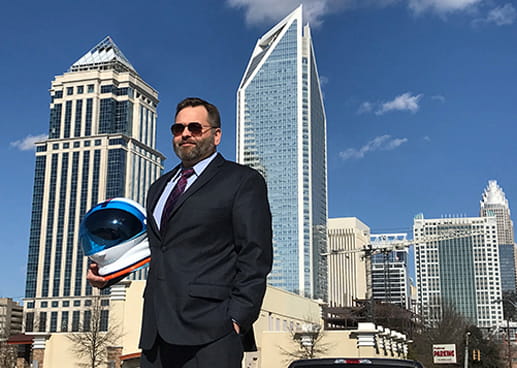 Space camp sparked a love of adventure and technology in Bryan Sprayberry when he was 12 years old. Today, he's helping a top 4 U.S. bank perform a first-of-its-kind mission: to automate the bank's regulatory processes and enhance reporting for today's — and tomorrow's — requirements.
Q: I heard your parents sent you to space camp when you were a kid. What was that like?
A: Actually, I begged my parents to send me to space camp. I was a big Star Wars nerd who loved all things math and science. The experience was extraordinary: I got to ride in a contraption that had me floating around a warehouse. I got to hang out with kids like me who dreamed of rocketing into the unknown.
I never got to the moon, but that experience sparked a love of adventure that I carry into all aspects of my life, whether at work or traveling with my fiancé. We've seen the Moroccan desert by camelback and hiked through a Brazilian forest. Sometimes there are setbacks, like figuring out a new language, but I thrive when I'm somewhere new, where the terrain is different, the language is foreign and the sights and smells are unfamiliar.
I feel the same excitement when I'm helping my clients tackle a complex project or navigate unchartered territory, and I know that with my team we can overcome whatever unexpected turns the project takes.
Q: What new territory are you helping your client navigate today?
A: Regulatory reporting is a top priority for every financial services firm. Even more so for my client—one of the top 4 U.S. banks, a group that is subject to the toughest regulatory scrutiny. As a testing project manager, I'm helping the bank automate its regulatory processes to meet federal mandates. This is a large, complex automation project requiring the coordination of data, operations, technology and reporting teams to avoid impacts with live data sources — and it's unchartered terrain for a top 4 U.S. bank.
Our team of project managers, data analysts and testers are incorporating a centralized database and reporting tool that will automate 63 regulatory reports, pulling from 57 authorized data sources (ADS). The bank needs to automate each of these reports one by one without interfering with the existing manual submission processes.
Dozens of analysts use SQL and other analytical querying skills to figure out how each new component of the regulatory database will pull and transform the data from these sources to mimic the existing submission process — it's not rocket science, but it's close.
Q: What results does the bank expect to achieve?
A: By automating the reporting process, we're helping the bank improve the accuracy and credibility of its data, reduce the risk of fraud and avoid hefty regulatory fines, penalties and scrutiny. The bank will be able to produce more than 60 reports covering everything from proving capital adequacy for the bank's holding companies to verifying the degree of country risk in bank portfolios in a fraction of the time it does now. Internally, the bank will be able to better share data across siloes, improve management reporting and make more-informed strategic decisions faster based on solid business analytics.
Moreover, by reducing the number of sources of data that the new submission process will pull from we're reducing the chances of a data breach.
Q: You've said that encountering setbacks is all part of the adventure. Was there any point in the project where you felt lost?
A: When I joined the project, a team was working on automating a monthly stress test report. When moving from the old system to the new, 40 million customer records had to match each of the 123 data elements related to consumer and small business credit cards. So that's 4.9 billion records that had to match before you can go live. The team was already months behind schedule when they were told that substantial changes had to be incorporated due to new regulatory concerns. With this volume of data, the client feared the team would never get off the ground.
I brought in agile capabilities to organize and document the collaboration routines so design, testing, editing and retesting happened in the development environment, in real time. We were able to eliminate email questions because the SMEs were in the room with the developers. Next, I focused on strengthening planning, identifying risks and escalating issues. Finally, the team was able to streamline release management, defect coordination and executive reporting using the testing best practices I introduced.
We were able to successfully move from development to UAT in just three months, and we're applying the same agile, project management and testing capabilities and best practices to drive UAT activities for a June 2019 deployment to production environment.
Q: You make consulting sound like an adventure. Is that how you think of it?
A: Absolutely. I've been doing this for six years, but every day feels like the first day of space camp — I get that same rush from knowing that today is an opportunity to face a new challenge, to learn something I didn't know before and to work with a crew dedicated to executing on our client's mission.
Watch Bryan's Game Changers video here.
Get to know NTT DATA
Accelerate your digital journey. Learn more about NTT DATA's Consulting and Automation solutions for Financial Services institutions.
Meet our Game Changers here.