Tech Innovation Can Lead a Retail Rebirth Driving Business Growth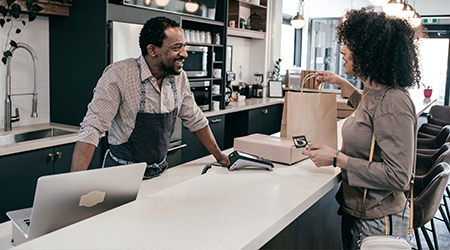 A quick look at recent news headlines simultaneously reveals that the
'Retail apocalypse' continues
, an

NRF study says customers dig retail tech
,

Retail Stocks' Punishing Year Just Keeps Getting Worse
, and

Nike goes the distance with omni-channel retail transformation
. These headlines tell a widely varying story of the current retail landscape, and with good reason — the response to rapidly changing market conditions varies widely across the industry. And it should as each retailer adjusts its response to meet its customers' unique expectations.

Yet, the challenge today remains. How to experiment and stay ahead of evolving customer expectations while also assuring operational and security best practices are met? Clearly, a strong IT strategy to support the ability to counteract competitive pressures via innovation is needed.

Customers sit in the cat-bird seat when it comes to today's retail environment. From the ability to compare prices in real-time while standing in the store aisle to demanding unique shopping experiences, meeting rapidly evolving customer expectations is vital to success. Yet, the imperative word here is evolving. Which means that standing still or resting on your laurels is not an option.
The Innovation Lab
A quick look at this year's NRF 100 retailers reveals a lengthy laundry list of innovations leading retailers are experimenting with to address customer expectations and reduce overhead. Everything from smart buildings and self-checkout that reduce operational costs to artificial intelligence that helps monitor stock levels on store shelves, and apps like mobile eCommerce, loyalty, virtual fit and more that enhance the customer experience are being tried. Which innovations are right for you depend on your business strategy and customer needs.

Let's look at how a few retailers applied technology transformation for business innovation, in the process helping address specific business goals.
Specialty Retailer Grows IT Automation for Faster Innovation
This specialty home goods retailer was looking to enable its in-house development team to stay nimble and one step ahead of the competition. Tasked with servicing the organization's eCommerce site and in-store systems, the company sought to grow developer and IT automation, increasing their productivity and the ability to quickly iterate on innovation.

To do so, with the help of Flux7 AWS consultants, the retailer moved to a container-based cloud environment that provides the desired level of DevOps automation, and an immutable infrastructure that encourages greater development innovation. Moving away from an environment where every server was built from scratch and manually patched, the new solution saves countless hours of manual labor, using Ansible Playbooks, Docker Swarm and more for a completely automated software provisioning and cluster setup.

In addition, Flux7 and the retailer fully automated the company's CI/CD code pipeline and deployed HashiCorp Vault and Consul for secrets management and service discovery. With blue-green development techniques, the retailer is reducing the likelihood of interruptions during patching or upgrade activities and has set itself up to grow its website elasticity and better meet daily and seasonal traffic peaks with greater cost control.
Rent-A-Center Streamlines New Revenue Opportunities
IT is increasingly tasked with facilitating new revenue streams for the business. Rent-A-Center (RAC) saw the opportunity to simultaneously streamline its partner sales and conduct a cloud migration proof-of-concept. With the help of the Flux7 DevOps team, RAC created a sales portal where partners could easily access inventory and close sales on their showroom floors.

The new PCI-compliant partner portal features five 9's availability and has given the RAC development team the ability to design and build at the speed of the market. IT is now a business enabler and a provider of direct business value, giving the organization a means to build solutions that outpace customer expectations. The new portal not only increased RAC partner sales but was just the proof of concept it needed for a larger initiative to transform its IT function.
RAC Unveils Autoscaling eCommerce Platform
Following its POC, RAC was interested in quickly introducing a new customer-facing eCommerce platform that was secure, PCI compliant, and highly scalable to ensure it would cater to online web-based demand, especially in its peak season. The goal was to introduce an eCommerce platform that would support the entire online shopping workflow using SAP Hybris. Working with the Flux7 DevOps team, RAC was able to implement an AWS microservices architecture solution with a cluster of Hybris servers which would cater to online web-based demand.

With AWS ECS as a backbone technology, RAC has been able to deploy a Hybris setup with automatic scaling, self-healing, one-click deployment, CI/CD, and PCI compliance consistent with the company's latest technology guidelines and meeting the requirements of its culture of DevOps and extreme agility. As just one proof point of the new platform's success: over nine million people, a 42% increase in traffic, visited the ecommerce site over the Black Friday weekend without a single hiccup.
Growing Loyalty and Customer Lifetime Value
A home furnishing retailer approached the Flux7 AWS consulting team to help it migrate its loyalty management software from legacy IBM hardware to Linux and then automate its configuration. Once the software deployment was automated, the specialty retailer was able to retire its old hardware, and migrate to the cloud. The new cloud-based system replaces a highly manual process with IT automation that allows developers to focus on innovation, rather than building new dev instances and/or managing the request and provisioning process.
The overarching goal for this specialty retailer is to improve the customer experience through an always available loyalty program. Moreover, the second phase of the company's efforts, an AWS migration, will be designed to bring DevOps automation that allows for faster innovation and time-to-market and reduced maintenance. With greater consistency and flexibility, this retailer can provide a stable, production environment that despite maintenance, upgrades and other changes is able to deliver an experience to its customers with little to no disruption. IT transformation is a journey, and this retailer is on its way, beginning with the customer experience.
Whether you are a retailer that is actively reimagining the customer experience, or just getting started on the path to technology transformation, a solid strategy that supports innovation at the speed of the market is critical to ongoing success. At Flux7, we help retailers experiment more, fail cheap, and measure results accurately in the digital world to further the goals of the customer-centric Agile Enterprise. To learn more about leading your agile efforts, Get a Quote today.