NTT DATA Team Recognized for Excellence in Transformation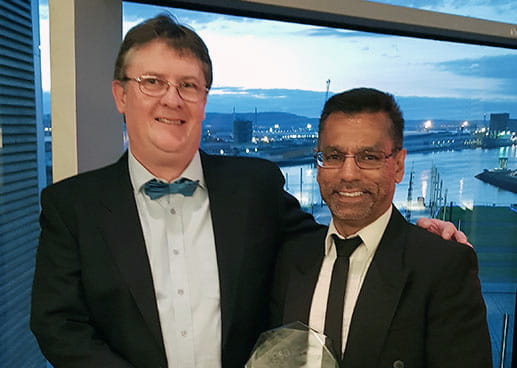 The Global Sourcing Association (GSA) UK and Ireland recently held their annual Professional Awards ceremony in Belfast. The Professional Awards are a set of accolades recognizing talent in strategic sourcing — showcasing individuals and teams that make a difference, but may remain largely unsung in the wider context of the global sourcing industry. Open to supplier teams working for a specific client, the Excellence in Transformation Award celebrates success from an IT development team with a proven outstanding result for a client project.
The NTT DATA team was proud to receive this year's award for Excellence in Transformation, primarily for their work on behalf of Movianto, an Owens and Minor Company. For that project, the NTT DATA team successfully managed a time-sensitive infrastructure platform migration project, moving from multiple third-party data centers to NTT DATA facilities.
Outstanding commitment
Throughout all aspects of the project, the NTT DATA team remained committed to success, especially during the migration, which required after-hours support, including weekends. Many team members postponed their summer holiday to ensure the migration ran smoothly. Leaders from both sides of the project were onsite for every phase of the migration.
NTT DATA uses the Project Management (PM3) Methodology, an internally accredited standard. This methodology is based on four phases: Discovery, Design, Build and Execution, iterative processes that take into account existing business processes, applications and infrastructure of a client environment. The process also includes transformation planning, along with organization and end-user readiness. As part of the quality plan, projects are regularly assessed against documented processes, ensuring strict adherence to client policies and procedures.
Abounding client benefits
NTT DATA successfully completed the full migration of the client infrastructure from several third-party data center providers to NTT DATA facilities within tight schedules and restricted outage windows. Over a six-week period, NTT DATA carried out four complex moves, including the lift and shift of operationally critical devices from data centers in one city to NTT DATA facilities in different locations — all with no down time on the part of the client. This was underpinned by detailed work books that tracked each task and owner hour by hour for the whole weekend of the migration.
The objective was to rationalize the number of suppliers and partners the client was using and ensure a timely, seamless transition to a new provider. The process included NTT DATA assumption of support for the entirety of the client's infrastructure, which was then formally handed over to their global multi-lingual support organization. The NTT DATA team completed the infrastructure refresh to new technologies, providing scalability and agility for the future.
Worthy competitors and comprehensive judges
To make their decision, GSA judges looked for evidence of how the teams deliver client benefits with efficiency and effectiveness. Teams can be self-nominated or nominated by the client. Submissions are judged by a committee consisting of GSA UK Council members and co-opted judges. The judges assess submissions based purely on the submission entry.
Entrants are invited to present their submission in front of a judging committee consisting of two or three GSA UK Council members or judges. The panel assessment includes a 20-minute presentation and 15 minutes of Q&A. For this judging round, the NTT DATA team was accompanied by their client. The GSA honors winners in 19 categories for both individuals and teams.
Learn more about NTT DATA's solutions for Data Center Management.