Game Changer Kim Curley Helps Top 4 U.S. Bank Digitize Risk and Compliance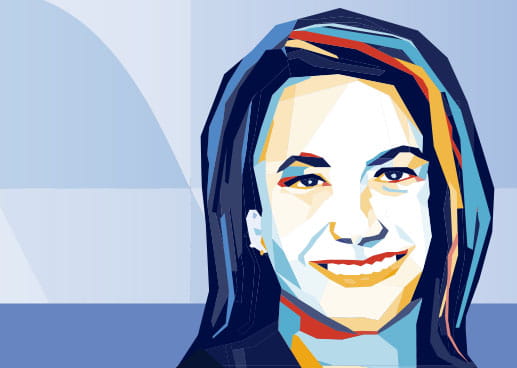 With a 25-year track record in the business consulting and financial services industry, Kim Curley knows what it takes to help her clients make game-changing transformations. As NTT DATA's People and Organizational Change, Process Optimization, and PMO practice leader, Kim's been recognized as a Game Changer for her ability to cultivate relationships, improve processes and drive organizational change.
Passionate about people
What's the secret to Kim's success? "I'm passionate about the people side of business," she says, adding that too often leaders focus only on the technical aspects of their strategy, neglecting the people side. As a trusted advisor to her clients and a mentor to other business consultants at NTT DATA, Kim reminds us that "there is no system that accomplished anything of value for a business without humans attached to it."
This people-centric approach has paid off for Kim's clients, leaders of the country's top financial services institutions responsible for ensuring the institution complies with federal regulations and that customer data is safe and protected.
Improving risk and resiliency at a top bank
With Kim's help, what started as a contract to deliver offshore development work for a top 4 U.S. bank a couple of years ago, has grown into a trusted advisor relationship with the firm's Risk and Resiliency leaders. "Our clients are continually impressed by the level of complexity we can take on," she says. Kim is proud of NTT DATA's proven record of driving complexity out of operational risk programs thanks to the company's approach that unites technical skills with financial services process optimization expertise and organizational change know-how. "We can bring lots of capabilities to bear in a non-siloed way, as well as ways that are very relevant to our clients' environments and needs because of our history delivering risk and compliance expertise to financial services clients," she says.
Kim was the person the Risk and Resiliency team turned to for help with their latest challenge: modernizing their enterprise-wide operational risk processes. The bank's organization was stretched, says Kim. They were relying on manual processes to connect a patchwork of data sources and line-of-business–specific procedures to accomplish the analysis and regulatory reporting that are only becoming more rigorous as the financial services industry becomes increasingly competitive and digital.
Today, NTT DATA is working with the bank to digitize and optimize more of its risk and compliance processes. "The team originally came to us to help them essentially extend their IT capabilities and free up budget through our digital capabilities," she adds. "Now, we're bringing the breadth of NTT DATA's offerings to bear on this client's most complex challenges: automation, testing, application development, process optimization and organizational change management consulting, to name a few."
Results to bank on
In a short period of time, the bank saw significant cost savings through the use of automated testing. The 40% of the development budget that previously had been dedicated to testing was reallocated to increase the functionality and capabilities of the tools. The operational efficiencies the bank's teams gained enables them to take on more work so they can extend resiliency solutions to additional internal customers leveraging the same number of resources. And the bank has reported a reduction in rework as processes have improved.
"We are also looking at optimizing business-as-usual processes through automation, as well as bringing in advanced analytics to not only improve data once captured, but also to improve the capture processes upstream," Kim adds.
Kim and NTT DATA Services are helping this leading bank build a self-driving business, powered by data analytics, automation and an optimized IT foundation that supports their digital initiatives. Find out how we can help your organization.