Flux7 AWS Landing Zone Sets the Foundation for Amazon WorkSpaces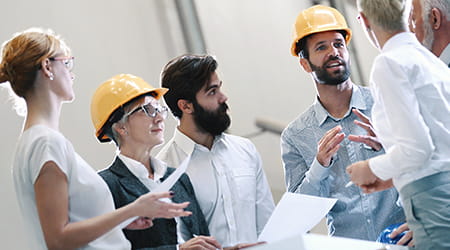 With the fast pace of evolving technology, new engineering approaches are necessary. From smart cities to green engineering, the opportunities in front of engineering firms are both large and exciting. Yet, to take advantage of these opportunities, engineering design firms must be agile in their collaboration with each other and their customers. With advanced approaches to integrated engineering and design, our newest customer is a rapidly growing engineering firm whose fast expansion is bringing these challenges to the fore. Wanting to move to the cloud to expand its agility, ensure security and continue its industry-leading levels of customer satisfaction, the design firm called the AWS consulting partner, Flux7.
With engineers working collaboratively on resource-intensive applications like AutoDesk, AutoCAD, and Revit, the engineering firm asked the AWS experts at Flux7 to help it implement a sound AWS foundation that would enable it to adopt Amazon WorkSpaces for its hundreds of engineers. Today's story is about the Flux7 AWS Landing Zone implementation and how it provided this firm with an agile and secure AWS foundation for its near-term Amazon WorkSpaces project and its long-term initiatives.
Minimize Engineer Downtime
Acquiring at least one company every year, it's imperative that this engineering firm be able to provide engineers with cloud computing capabilities that increase productivity and team collaboration. As a result, Amazon WorkSpaces were identified as an ideal solution to the company's strategy to streamline desktop management and enhance collaboration. A managed, secure cloud desktop service, Amazon WorkSpaces can be used to provision desktops in just a few minutes and can be quickly scaled to provide thousands of desktops to workers across the globe.
Easily scalable to new employees, and remote offices, Amazon WorkSpaces is an ideal fit for this firm's goal to run applications more seamlessly for employees in offices around the globe — and even engineers working from home. Moreover, Amazon WorkSpaces removes the complexity in managing hardware and software versions and patches, allowing IT Operations to focus on their desktop delivery strategy, rather than the mundane repetition involved in deploying and maintaining individual desktops for hundreds of engineers.
Having helped the firm build a solid strategy, our AWS consulting team worked hand-in-hand with the engineering customer to build an AWS Landing Zone for its Amazon WorkSpaces. Flux7's AWS Landing Zone design is comprised of a collection of application-agnostic components that provide a secure, manageable foundation for landing applications in AWS.
AWS Security Best Practices
In addition to assuring that its engineers could seamlessly collaborate on their designs, creating a dozen TB per day of project data, our customer had a keen interest in assuring that its intellectual property was secured at the highest levels. Flux7's security by design approach was a natural fit, giving the organization a foundation steeped in AWS security best practices. Specifically with the Flux7 AWS Landing Zone, the customer received:
An Account Factory which allows its DevOps team to create multiple AWS accounts for the highest level of resource and security isolation.
A CIS rules dashboard and configuration to implement Center for Internet Security (CIS) security configuration best practices for hardening AWS accounts. Continuous monitoring capabilities for these security configurations helps ensure compliance and audit readiness.
Transit VPC for routing traffic and connecting multiple and geographically dispersed Virtual Private Cloud (VPC)s and remote networks.
A Shared Services VPC that provides a management environment for hosting core services and performing automation operations across the company's different environments.
VPC Factory to provide rapid, consistent and secure creation and deletion of VPCs. The VPC Factory provides the firm with advanced, secure VPCs and leverage multiple layers of security through security groups and network access control lists.
AMI Factory which allows the design firm to create, verify and distribute Golden Amazon Machine Image (AMI)s that provide standardized machine images to the development group, meeting the firm's overall security and compliance requirements.
Bootcamp Knowledge Transfer sessions provide thorough training of the new automation, ensuring that the team could manage the AWS Landing Zone moving forward while extending its capabilities in future initiatives.
Next Steps in Cloud Computing
With a solid AWS foundation in place, our customer is intent on growing its AWS presence for greater agility, security and customer satisfaction. The next steps in the cloud are focused on system and application migration to speed deployment cycles.
AWS Landing Zone Benefits
Now this engineering firm has solved its desktop scalability issues, bringing greater collaboration across its offices and with its customers. Performance for key knowledge workers has been vastly improved in the process and the amount of time IT Operations spends managing desktops and onboarding new engineers has vastly decreased. With more time to spend on the company's desktop delivery strategy, Operations can create a virtuous cycle of greater productivity and innovation for its engineers.
In addition, the AWS Landing Zone deployment provides important guardrails to enforce security practices while offering flexibility for continuous iteration and growth; the firm has the ability to extend the platform as it migrates more of its operations to the AWS cloud. In all, the engineering organization now has a solid platform to accelerate its cloud adoption with best practices, helping it meet its data protection, engineering agility and customer satisfaction goals.