NTT DATA Helps Kids Stay Warm During Global Volunteer Week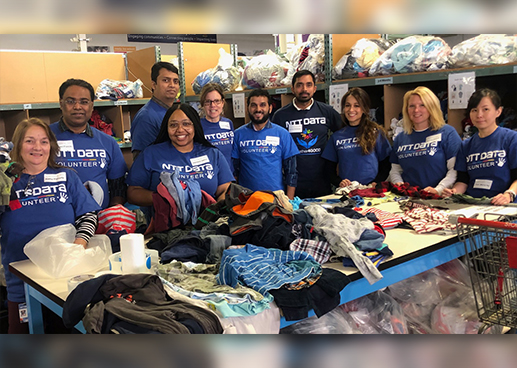 For a lot of us the holiday season means baking cookies, shopping for gifts, lighting candles or decorating a tree. But for the 20 million children across the U.S. whose families are low-income or live in poverty, the holidays can mean going without gifts or winter jackets. In fact, lack of proper clothing is the number-one reason children miss school, according to Cradles to Crayons — a Boston-based charitable organization that provides children living in homeless or low-income situations with the essential items they need to thrive.
Since 2012, Boston-based NTT DATA volunteers have chosen to support Cradles to Crayons during its Global Volunteer Week in December — an annual event that encourages employees to volunteer in local food pantries, schools and charitable organizations. On December 5, NTT DATA volunteers visited Cradles to Crayons' Giving Factory to assemble packages of winter clothing for children who don't have the basics to keep warm.
"When you donate money alone, you don't always know where or how it's used," Chris Jolie, VP in NTT DATA's finance organization told me. "Coming into the Giving Factory and doing this work is much more tangible," he said.
The ability to make an immediate, tangible impact on local families is a core part of Cradles to Crayons' mission. "When NTT DATA volunteers come to the Giving Factory, the work they do will help hundreds of children within days," said Karen Grant, VP of Cradles to Crayons. "These families are our friends and neighbors. They are trying their best to pay their rent or mortgage, provide food for their families and the fact that we can provide them with a properly fitting winter coat and boots for their children gives them one less thing to worry about."
Cradles to Crayons' model for providing support is simple: They collect new and nearly new children's items through community drives and corporate donations. Volunteers process and package donations in the Boston-based warehouse, The Giving Factory. Then, these packages are distributed to local disadvantaged children through a network of diverse service partners.
In the three years that Grant has been with Cradles to Crayons, she has seen demand for services grow. She explained that not only are more children in need, but they need more as well. "Previously, a child might have needed only a clothing pack (enough clothes to last a week), but now that same child also needs a backpack, school supplies and shoes."
Corporate volunteers, like those from NTT DATA, are a huge part of how Cradles to Crayons achieves its mission. During our visit to the Cradles to Crayons Giving Factory this year, our team assembled outfits for little boys, ages 18 months through age 2. This meant picking through piles of donated shirts, pants, sweaters and pajamas to put together outfits to clothe a child for week. While we were focused on outfitting boys, volunteers from other organizations were deployed at outfit stations for girls.
But it's not just about putting together an outfit, Praveen Gabriel, a volunteer from NTT DATA's corporate IT team, told me. It's about "ensuring only the best of the clothes goes to the children," so they feel valued.
The chance to come together with colleagues makes volunteering particularly rewarding for corporate volunteers. Maria Ng, part of NTT DATA's HR organization, said that one of the things she enjoyed most about her second visit to Cradles to Crayons was the opportunity to work with colleagues with whom she would not typically get a chance to interact. Kelly Newman, also with HR, said she appreciated that NTT DATA "encourages employees to get out there and work together to better the community."
In just two hours, volunteers in the outfit stations assembled clothing packs that would go to hundreds of children across Massachusetts the following week. That's another great thing about volunteering at Cradles to Crayons: you never feel that your time is wasted, several volunteers said. You are put to work immediately and have all the support you need to get the job done.
Whether its processing donations at the Giving Factory, donating gently used children's items, or making a financial contribution, there are many ways for volunteers to get involved. Whichever you choose, Cradles to Crayons' Karen Grant wants volunteers to know: "We could not do this work without you."
Find out more about Cradles to Crayons.
Learn more about NTT DATA's Corporate Social Responsibility efforts.