From High-Performance Driving to Driving High Performance: A Conversation with Business Consultant Andy Crawford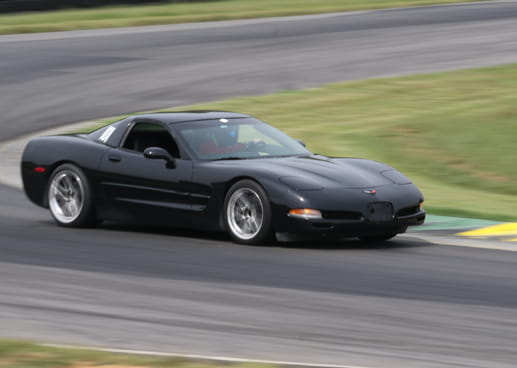 For this latest blog post, I chatted with Associate Director Andy Crawford in NTT Data's Business Consulting practice, about his drive to improve performance both on and off the track. A seasoned consultant, Andy talks about his passion for car racing, coaching drivers and mentoring consultants as they grow within our firm.
Q: I've heard that you race cars in your spare time. Has this been a life-long interest?
A: Despite being born and raised in Charlotte, one of the country's racing hubs, I didn't become interested in cars and racing until my early 20s. Since then, I've worked on and raced Mustang GTs, a BMW M3, a Corvette and a few Nissans. With a wife, three children under the age of 12, and a new puppy, I don't have a ton of spare time to spend at the track — but when I have a chance to be there, it's all-consuming. It's not just about competition and speed; I have a degree in mechanical engineering and driving at the track is a chance to express my interest in the mechanics and performance of the car. I've been in the sport for more than ten years, except the break I took when our twins were born. Four years ago, I started teaching high-performance driving. I like helping people become safer, faster drivers. There's nothing better than seeing the boost in confidence when a light bulb goes off and the student learns new techniques on the track. For the past two years, I've started mentoring new instructor candidates, which brings a new level of enjoyment.
Q: You started out in the manufacturing industry. How did you end up in financial services business consulting?
A: I've been interested in process improvement since the start of my career. Out of school, I was a reliability engineer where I obtained my Six Sigma Green Belt, became a Lean Master, and brought the manufacturing facility into compliance for a federal regulatory program. Bank of America then hired me to design and improve processes and operations — from teller processes to mortgage and home equity operations. After that, I got my Six Sigma Black Belt and moved into consulting, first at Carlisle & Gallagher and then at PwC with a focus on regulatory compliance. I rejoined the firm three years ago after NTT DATA acquired Carlisle & Gallagher because I loved the culture and could apply deep banking, regulatory and process improvement experience. I also saw the opportunity to bring broad capabilities to our clients because of our global technology delivery teams. Clients appreciate the ability to tap a strong end-to-end offering as part of one relationship.
Q: What's been one of the most satisfying client projects at NTT DATA?
A: One of our clients, a top four bank, was dealing with a consent order by Office of the Comptroller of the Currency (OCC) mandating that it fix customer information to comply with the Bank Secrecy Act and Anti-Money Laundering regulations. With customer records eclipsing one million, this was no small effort. The regulatory timeline was relatively short and spanned multiple lines of business. To add complexity, our client tapped multiple consulting firms in addition to ours. Despite many headwinds, we met our milestones, and time and again our team earned awards for adherence to forecast, quality, and speed versus our competitors.
One of the key differentiators was our ability to navigate complex data sets and provide meaningful, multi-layered reporting. From the beginning, we could see that we did not have access to all the data we needed to make strategic and tactical decisions to meet the OCC deadline. We brought in teammates with broad data experience and roll-up-the-sleeves attitudes who obtained, parsed and interpreted the data, and created impactful reporting for both our operational teams and our client. This capability outshined our competitors, and much of our reporting was leveraged when improvements were made across the entire remediation program.
We hit the mark because we did a thorough assessment of the problem, the environment and challenges and the client's capabilities. Then we deployed processes, tools and fixes to deal with those challenges. It's like on the racetrack — you plan your approach within the limits of the vehicle, assess track conditions and adjust to become faster, lap after lap.
Q: I'm proud to say that you were recently promoted to Associate Director. What motivates you as a consultant?
A: For a consulting career to grow, it isn't enough to do a fantastic job. You need someone who understands you're doing great work and communicates that to peers and leadership. NTT DATA's career coaching construct allows for that. Every consultant has a coach, and every consultant can become a coach as they rise through the ranks.
My coach and I interact almost daily. She understands the contributions I'm making to the account and the firm overall. It's very motivating. Since becoming a career coach myself, I've seen the value in championing my consultants' successes at the project and account levels, as well as helping them understand the impact they have on the firm.
Helping people develop permeates all aspects of my life — from consulting to raising my kids to instructing drivers on the track. Don't get me wrong — I also like speed. The pace of consulting, with its unexpected twists and turns, drives me to suit up each morning.
Watch Andy's Game Changer video here.