Meeting Demands of a Modern Workforce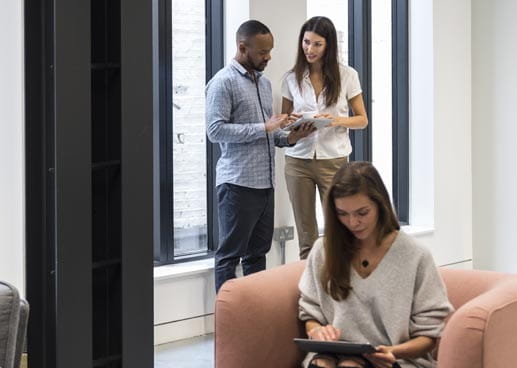 The best of times, the worst of times
It has been about 10 years since the US economy fizzled and we suffered through the Financial Crisis. Today, the economy is performing quite well, with gross domestic product growing at an estimated 4.5% annual rate in the second quarter. Today's Labor Department report shows an economy maintaining strength, and the unemployment rate remains at a historically low 4.1%, the best the economy has seen since 2000. Clearly, we've gotten though the worst of times and are sailing smoothly into the best of times…
Or are we? For HR professionals tasked with hiring the workers who drive business and the economy forward, it's more of a 'glass-half-full / glass-half-empty' proposition.
With low unemployment, it's an employee's market, putting a larger burden on HR to find the best talent. In fact, the 2018 Conference Board CEO study found that "failure to attract and retain top talent" is now the No. 1 issue on the minds of CEOs, even more important than competition or the disruptive nature of technology.
Another pressing challenge for HR professionals across industries is skill mismatch, where firms would like to hire but can't find employees with the right skills. According to Korn Ferry's Global Talent Crunch study, skilled talent shortages will impede global growth and if not addressed, could have a significant impact on major economies by 2030. The study estimates the gap between future talent supply and demand in 20 major economies at three milestones: 2020, 2025 and 2030, and across three sectors: financial and business services; technology, media and telecommunications; and manufacturing. The study found that left to run its course, this shortage will create 85.2 million unfilled jobs and nearly $8.5 trillion in unrealized revenue in the economies analyzed.
Business leaders on the importance of employees
"It goes without saying that no company, small or large, can win over the long run without energized employees who believe in the mission and understand how to achieve it." – Jack Welch
"I am convinced that nothing we do is more important than hiring and developing people. At the end of the day you bet on people, not on strategies." – Lawrence Bossidy
"The key for us, number one, has always been hiring very smart people." – Bill Gates
"Train people well enough so they can leave, treat them well enough so they don't want to. If you look after your staff, they'll look after your customers. It's that simple." – Richard Branson
"Human Resources isn't a thing we do. It's the thing that runs our business." – Steve Wynn
"Taking care of your employees is extremely important, and very, very visible." Why HCM? "It's the application everyone in the company uses. And it's the application that manages your most precious assets—your people." – Larry Ellison
Out with the old HR
Finding skilled workers is hard and retaining them is expensive – both activities are where businesses across most industries spend the overwhelming majority of their cash. Suffice it to say, all growing companies need a winning human capital management (HCM) strategy to achieve key business goals and stay ahead of the competition. To this end, companies must create an environment that employees wouldn't want to leave, built on a robust yet agile HCM platform that both employees and employers will embrace.
Making matters even more challenging, today's HR professionals must work with a broad range of people - baby boomers, millennials, next gen X, Y and now Z. Catering to the various and distinct needs, career aspirations and working styles of these different groups presents entirely new challenges which place great responsibility on the shoulders of HR.
Historically (circa 2000), typical core HR systems focused on payroll, ran in-house and were complex, expensive to maintain, highly customized and difficult to use. Nonetheless, these 'systems of record' served companies well by automating complex, time-consuming payroll and employee benefits processes.
Unfortunately, many HR departments are still saddled with older technology that is ineffective and costly. According to Mercer's 2016 Global Human Resources Information Services study, the vast majority of HR departments' human resource information systems are antiquated, disparate and redundant. Older technology keeps HR in the business of tactical data entry rather than talent development and strategic workforce planning.
Nonetheless, today's mandate is clear: HR must embrace digital technologies to reinvent the workplace and create an employee experience that mirrors the best customer experience, an experience that is human centered, personalized and compelling.
HCM's strong (and cloudy) future
The shift today is toward tightly integrated, multi-faceted, cloud-based systems that incorporate recruitment, on-boarding, learning and continuous performance management -- all in one place.
By all accounts, the global HCM software market is set to soar in the years ahead and will rapidly ascend to the cloud:
IDC forecasts the worldwide HCM market to reach $15.4 billion in 2018, growing at a CAGR of 8.2%.
As reported in AppsRuntheWorld, the worldwide HCM applications market will reach $17.8 billion by 2020, compared with $15 billion in 2015, at a CAGR of 5%.
In 2017, TechTarget reports, SaaS HR software surpassed on-premises systems for the first time, accounting for 56% of installed HCM systems, up from 36% in 2013.
More than half of all enterprises will rely on cloud-based or hybrid solutions for their human resources systems by 2020 – more than double the number that do today, according to ISG Insights. By 2020, more than 75% of companies expect to have migrated at least one HR system to the cloud, ISG finds.
As reported in a recent Forbes Insight study, a survey of 798 HR executives from across the globe finds 40% intend to replace their existing, on-premises HR system with a SaaS solution in the near future. Specific HR functional areas ripe for cloud adoption include benefits administration (40%), HR analytics (32%), talent review services (32%), time reporting services (32%) and core HR functions (30%).
Tap Oracle and NTT DATA for HCM excellence
At NTT DATA, we see it every day: Nowhere in business has the impact of cloud computing been felt more keenly than in HR. Decades spent implementing -- and customizing -- on-premise software have created considerable cost, complexity and rigidness, holding companies hostage to legacy processes dating back to the '70s (and beyond). The inability of disparate, legacy point solutions to meet today's challenges is driving the demand for holistic, integrated, cloud-based HR solutions.
Oracle HCM Cloud spans and integrates the entire HCM landscape, including talent acquisition, on-boarding, social business and collaboration tools, a learning management system (LMS), performance management, payroll, , applicant tracking, succession planning, talent management, and workforce analytics.
Across the board, leading analyst firms recognize Oracle for its excellence and continuous innovation across the entire suite of cloud-based HCM solutions.
NTT DATA improves and accelerates human capital management (HCM) solutions in the cloud through our partnership with Oracle. We provide businesses in all industries with an affordable, low-risk hybrid or pure-cloud solution that is typically implemented faster and at a lower cost than other approaches.
We've invested heavily in pre-configured templates with built-in best practices, project accelerators, data migration tools, bundled offerings and HCM specialists that allow our clients to significantly decrease HCM implementation timelines and costs.
Understanding that customers need to realize maximum value from existing investments, we specialize in guiding our clients through their complete HCM journey — from on-premise to hybrid to pure cloud delivery.
Contact NTT DATA to learn more about our expertise and hands-on experience with Oracle HCM Cloud or to schedule a meeting with our specialists at Oracle Open World October 22 – 25 in San Francisco.