Brandon Hall Recognizes NTT DATA Services Talent Development with Two Prestigious Awards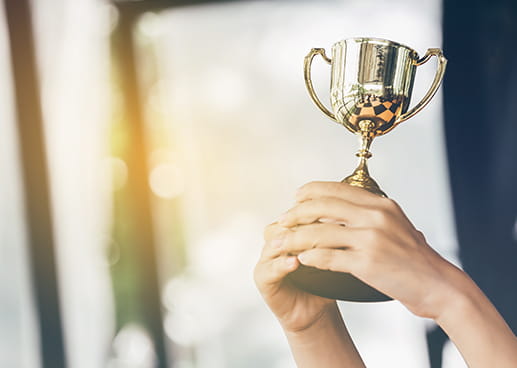 At NTT DATA Services we prize our human capital. We want to provide our team members with skills and competencies that enable them to succeed and achieve their career goals. Therefore we prioritize training and skill-building programs and cultivate an environment that fosters continuous learning.
The past year has been truly exciting for the talent development team. To ensure our team members are prepared to face the demands of today's changing technology environment, we have created a number of new initiatives for delivering learning and development programs. These innovative programs include competency-building certification programs that enhance our employee's technical, management and leadership development capabilities. NTT DATA Learning Certification Institute (NLCI) acts as a flagship offering for the technical and management programs.
We are also investing in providing our team members with highly specialized skills in digital technologies that are essential to serve our clients. These trainings are available through online courses, virtual classroom, traditional classrooms, and blended learning.
Our blended learning methodology combines instructor-led, and computer-based training. This ensures training is interactive, self-paced and very effective. This methodology is used by both newly hired and experienced team members for skills required to perform their job as well as client-specific training. Our new process training framework — along with the blended learning model — has yielded great results in competencies and skill development of new hires and has benefitted our Healthcare and Banking, Finance, Securities and Insurance (BFSI) industry offerings.
Our efforts were recently recognized, and I am thrilled to announce NTT DATA Services has won two prestigious awards from Brandon Hall for Talent Development — the Silver Award for Best Use of Blended Learning and the Bronze Award for Best Advances in Competencies and Skill Development. The Brandon Hall Group Excellence Awards, (often called the "Academy Awards" by Learning, Talent and Business Executives), are considered one the most prestigious awards program in the technology industry. The Excellence Awards recognize organizations that have deployed "programs, strategies, modalities, processes, systems, and tools," which have achieved measurable results. The program attracts entrants from leading corporations around the world, as well as mid-market and smaller firms.
Blended learning combines traditional Instructor Led training (ILT) with a mix of computer-based activities. The criteria for judging include how the learning program effectively aligned to the learning needs and situation, the effective use of learning objectives, the working environment, and the organizational outcomes.
NTT DATA's blended learning programs were designed to support the training and learning need of our employees (new/lateral hires/ first-time managers/supervisors). The types of training ranged across language voice and accent training, project-specific programs, people management essentials programs, and process training. The learning programs are delivered per Instructor-led training and computer based training. The trainer led sessions are interactive coupled with the usage of training tools, audio-video clips, case studies, and post-training work and reading material is provided to drive the learning.
The structure of the blended learning program involves
Briefing Session
E-Learning Module
Debriefing Session
Assessment
Ongoing Coaching and Mentoring and
Job Aids
Personalized attention is provided to managers and supervisors that require additional information or support to understand the concepts of management. Transitioning from an instructor-led training (ILT) program to a blend of ILT and self-paced learning has yielded immense benefits. Based on the feedback received from the associates and trainers, it was evident that:
The associates from all locations experienced a similar learning experience
The interactivity, simulations, and knowledge checks aided knowledge retention
The ongoing coaching and mentoring enabled the trainers to provide regular and immediate feedback to the associates. These sessions also served as refresher trainings
The performance support tools and job aids benefitted the associates while performing the actual tasks.
Best Advances in Competencies and Skill Development is awarded to organizations that can execute a workplace development program designed to support competency and/or skill development need within an organization.
Our new hire training framework that was implemented to develop vital-to-role competencies in optimal learning cycle time is a fine example of competencies and skill development. We hire fresh graduates for health care and BFSI lines of business that have processes of different complexities. While the new hires come with certain prerequisite competencies for their role (for example, human anatomy for Medical Coding and typing skills for Documentation Specialists), the core subject matter, hard skills, and competencies have to be developed through training, coaching and mentoring interventions.
To make new hire training more effective, a new training framework was developed and implemented. The framework focuses on providing knowledge and skill that are vital for the role:
Using various instructional methodologies to improve retention of knowledge
Enabling the application of knowledge through simulations and on-the-job training
Assessing the application of knowledge in real-time
Certifying new hires as 'ready for production' in optimal cycle time
The implementation of new process training framework along with the blended learning model has yielded great results in competencies and skill development of new hires and has benefitted NAhealthcare, BFSI business processes and the organization to a great extent.
This year was the first time we have participated in the Brandon Hall awards program. It was a great opportunity to showcase our abilities and served to benchmarks us against others. Being recognized will also motivate us to continue deploying better learning technologies and further build the talent development capabilities so that we can continue to develop and engage our team members.
If you are inspired by challenging but rewarding roles with professional development programs that help maximize your performance, join NTT DATA Services winning team.