Strengthening Marketing's Role in Customer Experience and Success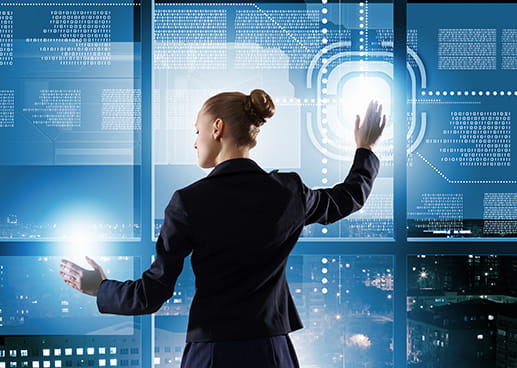 Just this week it was announced that the NTT DATA Marketing and Collaboration Center teams won Gold in ITSMA's annual awards for "Strengthening Marketing's Role in Customer Experience and Success." We are all incredibly honored to have achieved this award for the tireless work we put into creating the new Collaboration Center in 2017.
While the initial goal was a simple lift and shift of existing equipment and processes of an established studio, the team saw an opportunity to fully reinvent the new space and create a space for exploring digital possibilities, solving business problems and understanding technologies with our clients. To do this, we completely re-imagined what this new Collaboration Center could be. From construction to technology. From the mission to the methodology. From our content to our method of engagement. We started with a blank canvas and very aggressive deadlines. Nine months later our vision had been realized, and we launched the Collaboration Center in November.
As we get closer to the end of the calendar year, we also get closer to the most common time people across most cultures begin to reflect on the year we are about to put behind us and look forward to a new year of opportunity. Many of my colleagues and I are celebrating a very specific trip around the sun since November marks the one-year anniversary of the launch of our new Collaboration Center at our North America headquarters in Plano, Texas. And it is also the perfect time to look back at our journey working in the Collaboration Center over the past twelve months. Has the Center been able to live up to our vision for better engagement and success for customer experience with our clients?
Many years ago, I established my own personal life philosophy — and my standard life advice to anyone who asks. It's comprised of three simple rules valuable to ages 2 to 200: Have fun. Be nice. Stay curious.
I was recently talking with a colleague about this philosophy as it relates to what we do in the Collaboration Center. She pointed out that we use this philosophy with our clients every day when we are collaborating with them to work through their toughest business challenges.
Have fun
The work we do in the Collaboration Center truly is serious work. We are solving actual real-world business challenges — often with large-scale impact across the clients' organization. However, we believe that to solicit innovative ideas from teams, we must step outside of the conference room and outside of a typical mode of thinking, and into an environment that fuels creative thinking. Beyond the physical environment of the Collaboration Center, which already looks and feels very different from any corporate conference space I've ever been in, our team excels at helping shift the perspective of visiting client teams.
We use Design Thinking methodology as our approach for innovation and problem-solving, and this method requires wild ideas and radical ambition. And so, we inspire and encourage our client collaborators to have fun with their thinking. True, constraints are an important element in design systems, but allowing teams unrestrained thinking is how disruptive solutions are created. Have fun with it. We will get to constraints later.
Be nice
Being a good citizen works on every level in life, but especially when working in teams. When we bring client collaborators into the Collaboration Center, we are often working with cross-functional teams who do not typically work side-by-side and often do not see eye-to-eye. One huge advantage of Design Thinking is its ability to create alignment. Over the past year, we have seen many teams embark on Adventure Labs with us. These teams assemble in the Collaboration Center with varied viewpoints around a business problem and walk away with full alignment (and enthusiasm!) around a newly designed solution to the problem. How do we do this in just 2 ̶ 3 days? Hypnosis.
Just kidding. The answer is "Empathy." The Collaboration Center establishes a process for helping client teams unify their point of view through empathy for the end-user (the initial phase of Design Thinking). With a full understanding of the customer journey and an empathetic assessment of a day-in-the-life of this end user or target persona, client teams begin to not only better understand the customer, but they are also able to ensure they are focused on solving the right problem for the customer. As we are helping collaborators understand the premise of empathy for their customers, we have seen a side-effect to these lessons. We are teaching them empathy among themselves. Be nice to your customer, and to your team members.
Stay curious
The Collaboration Center is a place for exploration and curiosity. We investigate ideas and continually ask "What if?" and "Why?" The Design Thinking methods we use also require continuous curiosity about the persona(s) we are problem-solving for, and every aspect surrounding the challenge at hand.
Tim Brown, CEO of IDEO has said, "Holding a curious mindset is a great starting point when you're leading your team or organization. If you're in a truly new space, you won't always know the answers. Your team won't either. You're going to venture into the unknown together. Curiosity is a great way to lead that charge."
The Collaboration Center team understands this. All too often there is a desire to jump to solutions too quickly. If there's a problem to solve, we want to solve it as quickly as possible! However, when the problems are complex and systemic, it's much more beneficial to allow plenty of space for exploration. The Center is a place to dig deeper into a better understanding of the customer and explore the possibilities and "what-ifs" around a challenge. Don't rush to solutions, take a step back and always remain curious.
2019 . . . and beyond
We've learned so much over the past year. And I'm sure as we take our next trip around the sun, we'll know even more. But this I know for sure. We'll still be having fun. We'll be nice while we're having fun. And, we'll always, always stay curious.