Hospitality Combats Competitive Pressure with DevOps Adoption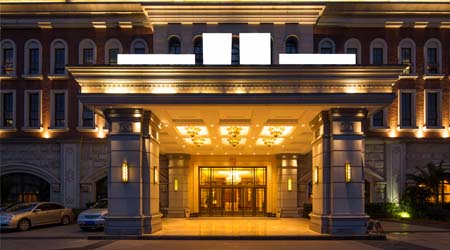 We recently shared with you the results of our customer survey in which we asked our customer base what motivated them to DevOps adoption. What we found was that in more than half the cases, business put pressure on IT to evolve and address a specific business challenge. Those challenges varied from customer-driven pressures to deadlines like an upcoming data center lease expiring.
Today we are going to take a closer look at an example of one of these challenges using Michael Porter's five forces as a framework. In case you aren't familiar with Porter's Five Forces, it is a useful framework for assessing an organization's competitive pressures in the market. Porter contends that there are five potential forces at play that can help organizations identify their areas of strength and weakness.
Porter's five forces of competitive position analysis: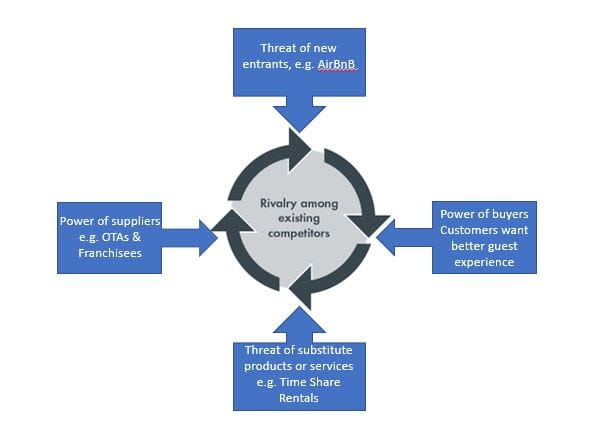 The Journey of Hotel A
In our example today, we will examine the case of Hotel A, a hotelier who markets to both business and leisure travelers and has over 1,000 US locations. Hotel A faces consist yet fairly stiff rivalry from existing competitors. While these competitors may vary somewhat from geography to geography, they are a known entity for which Hotel A has long-established strategies.
In addition, though, Hotel A is seeing the impact of threats from new entrants in the form of services like Airbnb and VRBO and even timeshare rentals which creates the threat of a substitute product for both luxury and economically-motivated customers.
Moreover, with the advent of OTA (online travel agent) services like Expedia, comparative search services like Kayak, and even Google itself entering the travel search fray, Hotel A has seen a large shift in the amount of control these intermediaries have in the consumer decision-making process. Adding additional complexity to the problem are local OTAs like MakeMyTrip in India and Trivago in Germany that are standard 'go to' services for travel booking. Without a presence, bookings in these regions would suffer.
Hotel A had made the decision to become asset lean and own fewer properties themselves. As a result, Hotel A needs to engage with franchisees to supply their properties, increasing the pressure to retain and attract new franchisees. As competitive hoteliers take a similar approach, Hotel A finds that it needs to offer its franchisees more innovative tools to increase their efficiency, consistently attract guests, and maximize revenue.
Last, customers themselves are exerting pressure on Hotel A for mobile services, in room features, and innovative guest experiences.
DevOps Adoption Emerges as the Answer
Operating in a highly competitive industry, it's clear: Hotel A needs to compete as effectively as possible. In analyzing the company's vision, goals and objectives, it became clear that Hotel A was lacking a strong IT strategy to support its ability to counteract competitive pressures via innovation.
Needing to quickly deliver technology solutions across several fronts, Hotel A had to find a way to evolve its IT processes to grow its agility and quickly deliver innovation. For example, as the number of search engines for travel explodes well beyond standard sites like Expedia, the technology team needed a process for creating and modifying APIs that could easily expose inventory data to meet the needs of any travel search site. Its franchisees could benefit from innovative applications that increase housekeeping productivity and guests are excited to use their mobile phone for everything from check-ins to their TV remote control.
DevOps was identified as being able to play a clear role in facilitating agile methodology best practices; with a strategy like Flux7's Enterprise DevOps Framework, Hotel A can rapidly design, build, test and deploy solutions and in the process accelerate its IT modernization. Using DevOps development process like CI/CD (continuous integration and continuous deployment) can help increase code quality, speed time to delivery and increase developer productivity.
With advanced system automation in place, Hotel A will be able to more effectively overcome business challenges, growing customer bookings, franchisee satisfaction, and better positioning itself against new and old competitors alike.
For organizations like Hotel A who are facing pressure from all sides, DevOps adoption to modernize IT has the ability to address specific business challenges and can provide swift results. In future blogs we'll discuss how to choose a 'right-sized' pilot project to start your journey to IT transformation on the right path. Your competitors may have greater commercial, financial and marketing resources, but they won't have more efficient technology platforms or processes, which will help propel your business forward, whatever the challenge.
Stay tuned for the rest of our series on motivating DevOps adoption and IT transformation by subscribing to our blog below.