ROI, Legacy Systems and People at the Top of the CTO/CIO Agenda When Implementing Automation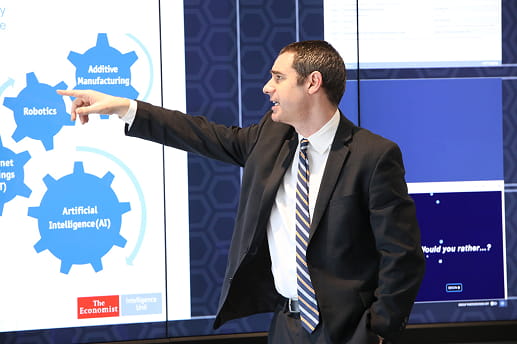 I recently had the honor of hosting top CTOs and CIOs from around the world during an inaugural CTO/CIO Forum at the NTT DATA Legacy West headquarters in Plano, TX. The group joined together for a day of learning, workshops and networking in our Collaboration Center all under the central topic of the 4th Industrial Revolution. We kicked off with a fantastic presentation by Robert Powell, Sr. Consultant from The Economist Intelligence Unit. Robert gave a global overview and state of the union for different regions in the world. He also discussed the EIU's perspective on automation and predictions.
Interestingly, automation was a hot topic during The World Economic Forum last week as well– so much so that one of the common and continuing themes – according to Quartz – is the "emerging threat of automation and the consequent effect on economic inequality and global stability".
We discovered that amongst CTOs and CIOs in the room, challenges and successes were more common than you'd think – even for those who came from different industries including healthcare, manufacturing, and financial services. The group agreed that things like: securing executive buy-in to implement automation technologies is #1, and compliance and regulations remain top challenges to automation simply because for each region a company has a footprint, a different set of rules for how data is used is enforced.
The CIO/CTO's then broke in to three teams, and tackled these issues:
Developing the right ROI and the Business Case
Impact of Legacy Systems on the ability to automate
How do you address people and culture?
They shared their work and ideas, and then discussed topics for the next Forum. We look forward to more of these discussions in our next CTO/CIO Forum this fall.