AWS Case Studies: Autoscaling: A Multi-region High Availability Website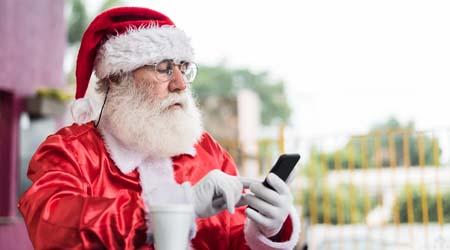 Flux 7 Helps HomeAway Save Christmas in the Nick of Time
As the world's leading online marketplace for the vacation rental industry, HomeAway aims to help families and friends find the perfect vacation rental to create unforgettable travel experiences together.
And while many families like to get away for the holidays, two-thirds of kids worry that Santa won't find them if they aren't home on Christmas. As a result, this past holiday season HomeAway launched a marketing campaign to proactively address the issue.
The marketing team at HomeAway let ingenuity reign the day with the invention of RerouteSanta.com, a website parents could use to alert Santa of their child's location on Christmas. With a sigh of relief, parents could plan their vacation knowing Santa had sent their little ones a custom letter assuring them he knew of their Christmas Day whereabouts. And with that, HomeAway helped save Christmas for thousands of children (and parents) around the world.
The only problem: the HomeAway team needed to launch the campaign globally with a very tight timeline. This would require the ability to launch quickly in different markets and different languages around the world while scaling to meet different traffic demands.
"Flux7 was critical in orchestrating this campaign on a very tight deadline," said Kate Lowery, global vice president of public relations at HomeAway. "They came highly recommended to us as on-the-ground support with a great deal of expertise who could quickly build, launch and scale the systems needed for the RerouteSanta.com campaign. We are simply over the moon with how available and easy Flux7 was to work with, and their ability to deliver exactly what we needed when we needed it. The team at Flux7 was absolutely instrumental to the success of this important holiday campaign."
At the end of the day, Flux7 created a fast – loading at sub one second — scalable, and global solution for HomeAway that allowed kids the world over to alert Santa to where they would be on Christmas. It was highly available so that if a single instance went down, the website would have stayed up, not letting a single child miss the opportunity to alert Santa. In the end, however, the Flux7 created aws autoscaling architecture was flawless; there was not a single failure over the entire duration of the campaign.
In addition to being highly available, the design was cost effective, autoscaling to meet demand across eight different markets and seven different languages for France, Germany, Italy, Portugal, Spain, the US and the UK that saw traffic peak at different times. The results reached 300 million unique viewers via online, print and TV press coverage, 250 stories in eight countries around the world.
The system was built using AWS Elastic Beanstalk and Amazon RDS with a MySQL engine. It included Amazon CloudFront and AWS Web Application Firewall to boost security and improve performance. Housed on the same servers, the websites shared resources and featured secure data transmission via SSL HTTPs. Parents knew their child's information would be safe and could plan a holiday retreat knowing their child could rest assured Saint Nick would find them on Christmas Day.
You can find more AWS case studies here.
Read how we're building infrastructure to help websites deliver new features, fast with continuous integration and continuous delivery.