AWS WorkSpaces Now with Tagging for Greater Governance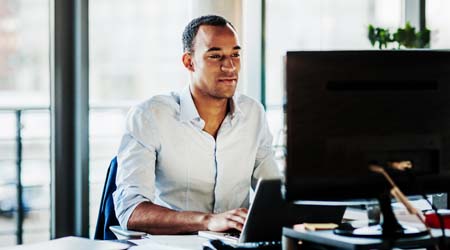 While we write frequently about backend technologies, as AWS consultants, we also work with businesses on client systems and as the hype around AWS WorkSpaces grows, we have been fielding an increasing number of inquiries about it. A managed desktop computing service in the cloud, AWS WorkSpaces enable users to access their files, applications, and other resources through a supported device, regardless of their physical location.
New to AWS WorkSpaces is the ability to tag. By tagging WorkSpaces, organizations can track WorkSpace use and associated charges to monitor costs with greater granularity and improve governance. Our Flux7 AWS consultants support the vision of zero hardware which naturally encompasses end client systems. The benefits of moving end clients to the cloud are significant. Consider:
Better Security and Governance
The Amazon WorkSpaces service manages tasks such as patching and maintenance, enabling a consistent, highly secure, quality desktop experience that complies with internal and external governance requirements. And, now with tagging, organizations also have greater governance of WorkSpace use and costs as well.
Lower Risk of Data Leak
WorkSpaces offer several security features, such as multi-factor authentication, continuous patching, and antivirus software. However, with countless security breaches caused by employees innocently leaving their laptop on the subway or in the car, the security value of having critical files and data in the cloud rather than a physical device cannot be overstated.
Low-Cost Maintenance
With WorkSpaces, IT needn't worry about procuring and maintaining hardware or complicated software. For a low-cost fee, it is all taken care of for you.
High Productivity
Multiple devices can be used as terminals; Amazon WorkSpaces provides users with the same desktop experience, applications, and data whether it is from the user's Windows or Mac computer at home, Chromebook at the office, or iPad, Kindle Fire, or Android tablet on the go. Having the same setup across devices serves to remove unnecessary barriers and increase productivity.
Allows BYOD
With terrific support across devices, WorkSpaces effectively allows employees to bring their own device without opening the door to a rash of support issues for the internal help desk.
Less Loss of Revenue
Last, WorkSpaces decrease potential lost revenue due to hardware failure or software corruption.
As we mentioned earlier, Amazon recently added the ability to tag WorkSpaces. Tagging is a terrific addition in that it allows organizations to track use and cost for greater governance and fiscal control. Tags can, for example, be the department the WorkSpace user belongs to; the associated cost can then be billed to the respective department for accountability.
Nearly every business that provides employees with workstations for front desk or back-office work including sales organizations, doctor offices, law firms, manufacturing plants, engineering organizations and more, can benefit from WorkSpaces.
International Law
Our AWS consultants recently worked with a law firm that illustrates a great use case for managed desktops in the cloud. Split across multiple continents and without an internal IT team, the firm naturally had a need for a consistent, dependable, and secure environment for their lawyers to login to and access email and other legal documents. Our consultants built a solution with a self-service methodology where users could provision desktops on demand. It featured a secure environment, automated installation of relevant software, single sign-on, and secure site-to-site connection between the US and Europe.
Classroom Training
For an EDA ISV, we facilitated hands-on corporate training for 600 students. The training required a secure environment with an identical workstation for every student. Rather than purchasing and imaging 600 laptops — and storing them for 6 months between sessions — we gave everyone a virtual workspace with the training materials they required. The solution allowed instructors to easily share new files during training and vastly decreased the need for IT maintenance. This use case exemplifies why tags can be so useful. For this customer, our consultants saved the student name and the class in which the student was enrolled in tags. Now that Amazon WorkSpaces has the ability to tag, when we port this client's solution to WorkSpaces, we will be able to use tags here and help our client reap their benefits.
If you would like to learn how WorkSpaces can add greater security, governance and cost control to your organization, please reach out today. We'd be happy to assess your needs and apply our best practices for zero hardware across your environment.