Amazon Web Services
Build a secure foundation, integrate cloud-native and third-party services and get the most from the AWS platform.
Cloud Advisory
Assess, plan and design your cloud transformation program with our experienced consultants, industry best practices, first-rate tools and automation.
Cloud Implementation
Attain a secure cloud foundation that empowers you to migrate legacy application with cloud-native tools and DevOps services.
Cloud Management Services
Drive maximum value from your multi-cloud investments with a managed virtual data center, cloud brokerage and orchestration and cloud native services.
Cloud Security
Leverage security frameworks, data protection and security infrastructure for success—no matter where you are on your cloud journey.
Nucleus Cloud Management Platform
Address IT sprawl and increase transparency with a proactive approach to implementing control and a holistic intelligent platform.
Managed Services for Microsoft Azure
Benefit from comprehensive management of your Azure environment, using a combination of ITIL® based methodologies, automation and industry best practices.
We're a Leader in Cloud Management Services
NelsonHall's End-to-End Cloud Infrastructure Management Services NEAT Report, 2022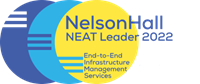 There's no doubt about how quickly the cloud market is changing with the rapid releases of new hyperscale cloud products and services. NelsonHall's latest report on end-to-end cloud infrastructure management services will get you up to speed.
Featured Content
The latest Cloud Transformation content from NTT DATA and our subject matter experts.