Accelerate the Future of Mobility
Technology demands of the evolving automotive market require innovative and flexible cloud environments.
BMW Group, a multinational manufacturer of luxury vehicles and motorcycles, partnered with NTT DATA to transform its computing infrastructure operations – migrating and integrating operations for worldwide data centers, driving improvements in efficiency, agility and automation.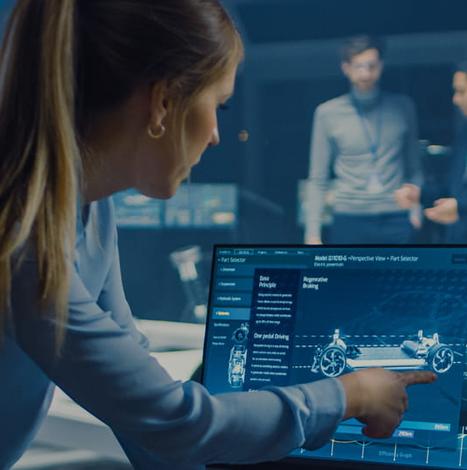 The design, manufacture, sales and delivery of automobiles at a global scale requires operational efficiency and stability across all business functions. A high-performance, robust computing infrastructure is increasingly critical to driving functional innovation and success.
"Our clients rely on stable, secure and agile IT on which to run their organizations," says Simon Winter, vice president of go-to market, NTT DATA Services EMEA. "To focus on their core business rather than on managing IT, many of our clients turn to us for hybrid infrastructure services. With our over 200 state-of-art data centers and years of ITIL experience, we host business critical, secure infrastructures for clients worldwide."
Streamlines global Windows and Linux/Unix computing environment
Provides business continuity throughout an infrastructure transition
Builds global support for manufacturing and production lines, sales and marketing, showrooms and headquarters
Improves performance and reliability with onsite, nearshore and offshore delivery
Advances transformation to software defined infrastructure
Streamlining data center operations
NTT DATA Services assumed responsibility for the BMW Group's entire global server environment driving its manufacturing and production lines, sales and marketing offices, showrooms and headquarters operations.
NTT DATA's Hybrid Infrastructure Managed Services operates the day-to-day operations of the enterprise compute landscape as a private cloud enabled by VMware technology delivering services from onsite (Munich), nearshore (Romania) and offshore (Noida and Bangalore) facilities.
The cloud environment includes operation of Windows, Linux/Unix and virtual servers as well as:
Server provisioning and decommissioning
Management and support compute environments including platforms and services for Open-stack and antivirus applications
Project management and consulting services
Ensuring business continuity throughout the transition
Transitioning global server operations to NTT DATA was more involved than simply assigning a new pair of hands to the steering wheel.
"Those server operations are business critical so ensuring a smooth transition of the management and support of the server environments to NTT DATA while maintaining the stability of the environments was paramount," says Mark Devonshire, vice president of delivery, NTT DATA Services, EMEA. "We carefully developed and tested an approach which identified and minimized risks throughout the transition and onward into steady-state operations."
The transitioned server operations offer a performant and resilient platform to support current operations as well as a foundation for further hybrid infrastructure services.
Next up: the Software Defined Infrastructure
The global electric mobility market is expected to grow rapidly and will drive general demand for robust in-car digital services and highly autonomous driving experiences.
In anticipation of that, NTT DATA is working with the BMW Group to transform its traditional compute operations into a Software Defined Infrastructure environment. NTT DATA's Cloud Transformation services will evolve the enterprise's global server infrastructure into a hybrid cloud environment, virtualizing and automating the performance intensive workloads and services required to support the evolving electric mobility market.
"We are excited by the opportunities to support our clients in their cloud transformation journeys," says Winter, "as aligning cloud strategies with business and market demands will help unlock potential and drive continuous innovation and growth."
Founded in 1916 as an aircraft engine manufacturer, BMW is a multinational manufacturer of luxury vehicles and motorcycles headquartered in Munich, Germany.