NTT DATA Named the 2022 ServiceNow Americas Customer Workflow Partner of the Year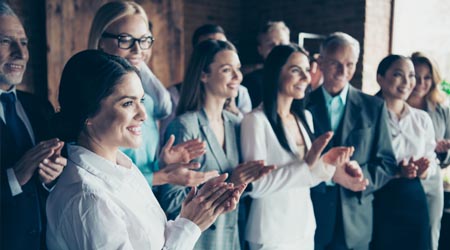 NTT DATA has been awarded the 2022 ServiceNow Americas Customer Workflow Partner of the Year.
This award recognizes the partner that performed an outstanding job expanding their ServiceNow Customer Service Cloud practice. Our expertise and innovation within the customer service product provides cutting-edge service as ServiceNow customers look to transform the way they are delivering customer service.
Leading companies and executives are demanding proactive responses, aided by ServiceNow's advanced analytics and predictive capabilities. With industry-specific experts embedded in each industry's unique ways of serving customers, our Customer Workflow expertise keeps businesses moving forward. Recent customer success examples include resetting the customer experience at a managed security services provider and leading a major unified school district through new COVID customer interactions.
About the award
The ServiceNow Global Alliances and Channel Ecosystem (ACE) organization recognizes the achievements of best-in-class partners who have contributed to ServiceNow's growth trajectory by driving successful business outcomes for our joint customers. 2022's awards were based on partner performance for 2021 by evaluating the following key attributes: revenue contribution and growth, product line expansion, workflow and skill competencies growth, and business innovation with associated digital transformation impact.
The Customer Workflow Partner of the Year award comes on the heels of ServiceNow's own Customer Workflow excellence, with 28 percent of their Net New ACV in 2021's fourth quarter coming from Customer and Employee Workflows – up from 26 percent the previous quarter. In addition, Customer Service Management was part of 13 of the top 20 of ServiceNow's deals in the fourth quarter.
Over the past year, ServiceNow continued to expand its global partner ecosystem by building intimate relationships with partners to support customers seeking help to navigate their digital transformations journeys and adjust to the new world of work. Membership in ServiceNow's partner program has provided us the tools to equip, enable, and be empowered to identify jointly aligned go-to-market initiatives and innovative offerings and solutions which deliver compelling business value for customers and accelerate growth for our ServiceNow business.